Our Beliefs
The Holy Bible was written by men divinely inspired and is God's revelation of Himself to humanity. It has God for its author, salvation for its end, and truth without any mixture of error for its matter.
Christ Jesus is the Son of God and was born of a virgin. He lived a sinless life, died on a cross for the sin of all humanity and was resurrected from the dead. He lives today at the right hand of God the Father interceding for believers.
Salvation is a gift from God, which cannot be earned. Salvation is based upon God's grace and is extended to all those who will turn from living for self, place their faith in the work of Jesus, and live with Him as their Lord.
Mission:
We are driven by the passion to
know Jesus Christ,
grow in His ways, and
go for Him all of our days.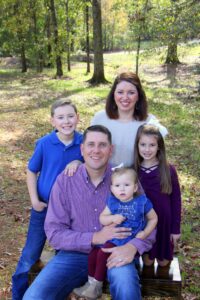 Bro. Shane has served as pastor of Oak Hill since 2015. A native of South Carolina, the United States Air Force and God's call to ministry have taken him to the "uttermost parts" of the earth and back, then placed him here in Poplarville, Mississippi. Shane is married to Ashley Meyers of Ponchatoula, Louisiana; they have a son, Caleb, and two daughters, Kayleigh and Kyleigh Grace. He enjoys sharing his faith in Christ, military history, farming, hunting, college football, and spending time with family. Though Shane separated from active duty military service when he was called to pastor Oak Hill in 2015, he continues to serve as a Chaplain with the Mississippi Air National Guard. He credits the U.S. Air Force with paying for his education, saying, "The G.I. Bill is a glorious contribution!" Bro. Shane holds a Bachelor of Science in Secondary Education from Louisiana Tech University, and has also earned both the Master of Divinity and Doctor of Ministry degrees from New Orleans Baptist Theological Seminary. He currently serves as an adjunct instructor of Old and New Testament Survey classes at Pearl River Community College, allowing him to share his lifelong love of learning and of God's Word with the students there. The Moore family loves Oak Hill Baptist Church, the people of Poplarville, and the great state of Mississippi! Shane's prayer is that his ministry here will glorify Jesus Christ through winning the lost and by equipping the saints for God's service, mobilizing them to make disciples. Shane believes that we've been placed at Oak Hill to know Christ, grow in His ways, and go for Him all of our days; as he frequently says, "It's rigged for our good and God's glory!"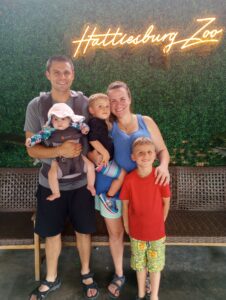 Dalton Hicks, Family Pastor
God, by His grace, led Dalton and his family to Oak Hill in 2021. He and his wife, Shelby, are from Paducah, KY, but they spent four years in New Orleans before moving to MS. (As a result of their time in NOLA, they are now proud Saints fans!) They have two sons, Hezekiah and Josiah, as well as one daughter named Sophia. While in Kentucky, Dalton graduated from Campbellsville University in 2015, earning the Bachelor of Arts in Biblical Studies. He also holds the Master of Arts in Biblical Studies, a Graduate Certificate in Counseling Ministry, and the Master of Theology from New Orleans Baptist Theological Seminary. He is currently pursuing the PhD in New Testament and Greek at NOBTS and, in addition to serving as Family Minister at Oak Hill, he works at NOBTS in the Center for New Testament Textual Studies. In his free time, Dalton loves to read and spend time with family (especially outdoors). He has a specific passion for the family unit; he feels called to come alongside families (specifically fathers—the head of the family unit) to help bring healing to the home and, ultimately, to see families fulfill their God-ordained purpose of reflecting Christ and proclaiming His Gospel. Dalton's greatest love and passion in life is Jesus; he lives to teach and preach His word, and make disciples.
Mike Magee, Music Minister
Mike Magee has attended Oak Hill since moving to Poplarville in 1997 and has been leading worship here since November of 2009. He believes that praising God through music draws us closer to Him both as individuals and as a body of believers and hopes that you will be blessed by each song that's sung and every note that's played during our worship services! Mike's involvement in church music began with Preschool Choir and has continued ever since, as a choir member, vocal and instrumental performer, and currently as Minister of Music at Oak Hill. While Oak Hill's worship services are a blend of classic hymns and contemporary favorites, Mike's personal musical interests range from Gregorian chant to bluegrass gospel and almost everything in between.