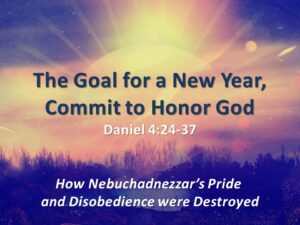 The Goal for a New Year, Commit to Honor God
How Nebuchadnezzar's Pride and Disobedience were Destroyed
Daniel 4:24-37
I want to recap a little about chapter 4 and encourage you to read it later. In verses (1-3) we see that Nebuchadnezzar is amazed at God's power for saving the Hebrew teenagers from the furnace. He's praise is short lived. It's a great reminder that living for Christ is not about head knowledge, but heart transformation. In verses (4-18) King Neb has another dream. In verses (19-27) Daniel interprets this second dream with a clear warning. This same warning I believe is for all followers and non-followers of Christ today! It's a wake-up call to make sure that we commit to live for Christ daily. Let's make that our goal for this new year and every year! Before we get into the passage we'll examine today, I thought we'd look at verse 23. A good interpretation of this passage could be that an angel of God is going to remove this tree or (Kingdom), yet after repentance (leave the stump) allow the Kingdom to come back.
We Must Strive to be Humble (Daniel 4:24-26)
The opposite of humility is pride. Is pride a sin? It is a sin when one fails to see that every blessing is based upon the sovereign hand of God! Pride that is a sin starts believing the lie that I myself accomplished that. When we begin to get comfortable in thinking we can do things apart from the power and presence of almighty God, that's sinful. What does God say about pride? Proverbs 16:18 "Pride goes before destruction, and a haughty spirit before a fall." Proverbs 21:4 "Haughty eyes and a proud heart, the lamp of the wicked, are sin."
Remember the people of God, that God had delivered from slavery in Egypt? They became comfortable and complacent. You know what they we saying to pastor Moses? "I've served my time, it's time for someone else to serve!" It's sad how serving God is never wasted time, but during unwillingness to serve, He'll made your life miserable. Moses recounts the sin of pride in Leviticus 26:12-21 "And I will walk among you and will be your God, and you shall be my people. 13 I am the Lord your God, who brought you out of the land of Egypt, that you should not be their slaves. And I have broken the bars of your yoke and made you walk erect. "But if you will not listen to me and will not do all these commandments, 15 if you spurn my statutes, and if your soul abhors my rules, so that you will not do all my commandments, but break my covenant, 16 then I will do this to you: I will visit you with panic, with wasting disease and fever that consume the eyes and make the heart ache. And you shall sow your seed in vain, for your enemies shall eat it. 17 I will set my face against you, and you shall be struck down before your enemies. Those who hate you shall rule over you, and you shall flee when none pursues you. 18 And if in spite of this you will not listen to me, then I will discipline you again sevenfold for your sins, 19 and I will break the pride of your power, and I will make your heavens like iron and your earth like bronze. 20 And your strength shall be spent in vain, for your land shall not yield its increase, and the trees of the land shall not yield their fruit. 21 "Then if you walk contrary to me and will not listen to me, I will continue striking you, sevenfold for your sins." I believe God is serious about pride. It pays to be humble and know that God is on the throne.
We Must Surrender to be Holy (Daniel 4:27)
What does it take to be Holy? We cannot do this through our own power. We have to call upon the Holy Spirit to fight our battles and the church to partner with each individual.
The power of the Holy Spirit (Galatians 5:16) "But I say, walk by the Spirit, and you will not gratify the desires of the flesh."
A purpose of a church community (Hebrews 10:24-25) "And let us consider how to stir up one another to love and good works, 25 not neglecting to meet together, as is the habit of some, but encouraging one another, and all the more as you see the Day drawing near."
If not, We will be Humiliated (Daniel 4:28-33) This makes it crystal clear what disobedience causes.
We Must Seek Repentance that Honors God (Daniel 4:34-37)
There is two types of repentance
1) Sorry you were caught, fake repentance (Not true repentance)
2) Godly sorrow that is true repentance.
2 Corinthians 7:10 "For godly grief produces a repentance that leads to salvation without regret, whereas worldly grief produces death. "
Peter knew this, listen to what he tells us in Acts 3:19-20 "Repent therefore, and turn back, that your sins may be blotted out, that times of refreshing may come from the presence of the Lord, and that he may send the Christ appointed for you, Jesus,"
Today is the day to turn to Christ! No time to wait. If you are prideful, you will be humbled, rest assured! Trust in Christ, He will make your path secure. Make a commitment to live for Christ this New Year!