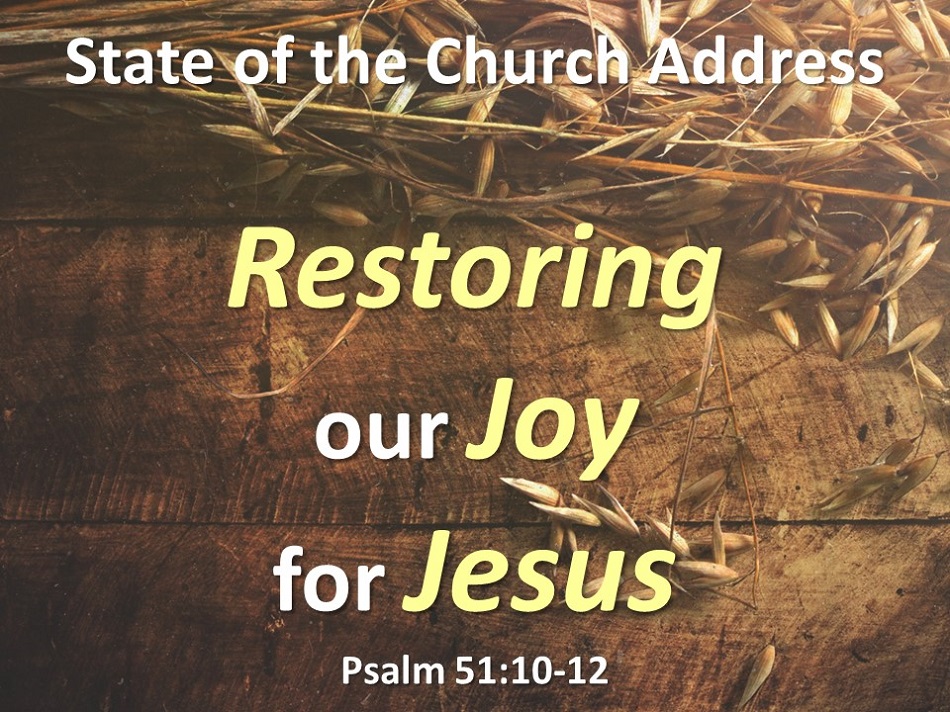 In order to know where we're headed, it's important to know where we've been. In 2019 We've had new members join and become actively serving. We've seen the beginning of Team Kid, a children's discipleship ministry that's excited families. We've done some outreach events that have allowed us to share the gospel with individuals that might never step inside a church. VBS and VBS family night allowed many families to see how loving and kind you are as a church. We've noticed at all our fellowship hall outreach events have secured the fact that we've outgrown the fellowship hall by leaps and bounds. The drama ministry and music ministry of Oak Hill had a packed hillside performance for the 2nd year in a row, declaring Christ as King of all during our "Hometown Christmas"! We've seen the start of a Praise Team, for music of all types centered on God's glory! We've grieved the loss of dear saints from our faith family and will continue to walk with these families. We've rejoiced in the harvest of 10 new Christian's lives being transformed by the gospel and countless others as they've renewed their walk with Christ. The Church as a total gave generously to missions. The two Tylers were sent out as missionaries this summer. God was doing amazing things in 2019, yet I believe He has something even greater in store for you this New Year. I believe the psalmist penned the words that will be our mantra. A restored focus on the joy of Christ. Living for Jesus should be the most joyous exciting thing that we do! Look at this passage with me.
A Restored Heart, a Yearning for Repentance v.10
A Restored Presence, a Realignment of Priorities v.11
A Restored Love for Christ, a Renewal of Joy v.12
Seven Questions to Restore Our Joy in Christ
1.What is one thing you can do to restore your joy in Christ?
2.What is an impossible prayer you can pray? God is in the business of doing the impossible! Listen to these impossible happening in which Paul says, "but God!" Romans 5:8 "but God shows his love for us in that while we were still sinners, Christ died for us." Ephesians 2:1-7 "And you were dead in the trespasses and sins 2 in which you once walked, following the course of this world, following the prince of the power of the air, the spirit that is now at work in the sons of disobedience— 3 among whom we all once lived in the passions of our flesh, carrying out the desires of the body[a] and the mind, and were by nature children of wrath, like the rest of mankind. 4 But God, being rich in mercy, because of the great love with which he loved us, 5 even when we were dead in our trespasses, made us alive together with Christ—by grace you have been saved— 6 and raised us up with him and seated us with him in the heavenly places in Christ Jesus, 7 so that in the coming ages he might show the immeasurable riches of his grace in kindness toward us in Christ Jesus."
What is the most important thing you could do to restore your family life? Read the Bible together, pray together, worship together?
What is the biggest time-waster in your life, and how can you redeem and restore it for God?
How can you strengthen Oak Hill Baptist Church? What contribution can you make in the restoration process? Serving, Giving, Praying? Has OHBC become a stronger instrument for God's glory this year because of you!
I believe Haggai the prophet gives us insight into restoration. Remember the setting. The people of Israel are in captivity by the Babylonians. A select group is allowed to go back to Jerusalem to rebuild the destroyed temple. God wants this and shows this to Haggai. Many are more concerned with their well being, their prosperity, than the furtherance of the Kingdom of God, but God's glory will always be more important. Haggai 1:3-8 "Then the word of the Lord came by the hand of Haggai the prophet, 4 "Is it a time for you yourselves to dwell in your paneled houses, while this house lies in ruins? 5 Now, therefore, thus says the Lord of hosts: Consider your ways. 6 You have sown much, and harvested little. You eat, but you never have enough; you drink, but you never have your fill. You clothe yourselves, but no one is warm. And he who earns wages does so to put them into a bag with holes. 7 "Thus says the Lord of hosts: Consider your ways. 8 Go up to the hills and bring wood and build the house, that I may take pleasure in it and that I may be glorified, says the Lord."
God wasn't going to bless them until restoration to the temple was complete. You and I, if you've placed faith in Jesus Christ, are temples of the Holy Spirit. God's call for restoration is clear. We have facilities that need restoration and facilities that need to be built. Doyla Ashe will come and speak to that at this time.
Bro. Brady desires to see a restored joy of Christ within the youth ministry. He will share at this time.
For whose salvation will you pray for most this year? Joy in Christ is the greatest motivation for evangelism!
What single thing will you strive to do that will matter most for eternity?
Goals for Restored Joy at Oak Hill Baptist Church
Goal 1: For every believer to be actively sharing their faith in Jesus Christ with the lost.
Goal 2: For every believer to be actively praying for the lost to come to Christ.
Goal 3: For every believer to have a vital part in the discipleship process.
If we are going to experience joy in Jesus Christ, this New Year, we must be intentional. Let's pray for the church, for the people, for salvations, and for one another.