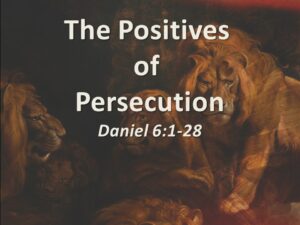 The Positives of Persecution
Daniel 6:1-28
Allow me to recap a little, while hopefully you will fill in the gaps by reading the passages we do not cover today. Let me first start by saying that I do not believe it was happen chance that God lead us to the book of Daniel back in 2020. I believe it's His providence and power. He has this thing rigged for our good and His glory! In Chapter 5 we see King Belshazzar, Nebuchadnezzar's son become King. He witnesses a supernatural working of God by writings on the wall. Guess who interprets the writings? You guessed it, Daniel. Basically the writings were a warning that the kingdom would be given to the Medes and Persians as a result of Belshazzar's lack of repentance. This did happen, and King Darius, the Mede became king. From the text we learn that it appears Daniel and Darius were friends.
I. The Reason for Persecution (Daniel 6:1-9)
a. Because you live for Christ. (John 16:33) "I have said these things to you, that in me you may have peace. In the world you will have tribulation. But take heart; I have overcome the world."
b. Because you long to follow Christ more than the world. (2 Timothy 3:12) "Indeed, all who desire to live a godly life in Christ Jesus will be persecuted,"
II. The Reaction to Persecution (Daniel 6:10)
a. A discipline of prayer v.10
Daniel's praying gives us great insight for our discipline.
Prayer is a public testimony of one's source of power.
Prayer is a testimony that life is built on communing with the presence of God.
Prayer is more precious than life. The windows in Daniel's room were open. He was more concerned with being with God than living!b. A desperation for God's presence and power v. 10
We saw the perfect reaction to a longing for the power and presence of God in the first three Hebrew teenagers in Daniel 3:17-18 "If this be so, our God whom we serve is able to deliver us from the burning fiery furnace, and he will deliver us out of your hand, O king. But if not, be it known to you, O king, that we will not serve your gods or worship the golden image that you have set up." Another would be Stephen's insight in Acts 7:55 "But he, full of the Holy Spirit, gazed into heaven and saw the glory of God, and Jesus standing at the right hand of God." then Acts 7:59 "And as they were stoning Stephen, he called out, "Lord Jesus, receive my spirit." What about Paul's statement in Philippians 1:21 "For to me to live is Christ, and to die is gain."
III. The Results of Persecution (Daniel 6:16-28)
a. Your courage will cause many to pay attention. vv. 16-18
b. Your commitment will cause many to praise God. vv.25-27