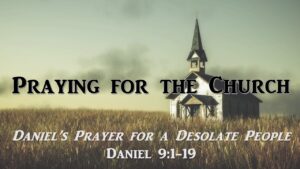 Praying for the Church
Daniel's Prayer for a Desolate People
Daniel 9:1-19
We've spent the last month not meeting on Sunday evenings in order to pause and pray. Why? Here are a few specific reasons. 1. We desperately need a mighty movement of God! I believe that a mighty movement begins by His people petitioning Him, before the throne of grace, requesting, asking, and pleading. We do this the same way that you pray for your children's or grandchildren's salvation! 2. Another reason we have done this is because we desperately need to be obedient to the Commands of God, to make disciples, love God and our neighbors! 3. We desperately must refocus on serving God! 4. We've been praying over the past few days for God to give us clarity into a sustainable way to reach this community for Him. 5. We've been praying for volunteers to step up and have the same cry as Isaiah when he said, "whom shall I send", here I am Lord, send me!" 6. For us to be great stewards of our time, are Sunday nights spent the best way they should? This has all been part of our vision to reconnect!
Daniel prayed for his people! He was about 80 years old, the 70 years predicted in Jeremiah was coming to an end. We think this was around 539 BC. One of my greatest joys is to pray for you! In Daniel's case it was a people who had grown cold, wicked, and self-focused. Sounds like the American church doesn't it. According to verses 5 and 6 they were full of guilt and shame. In verses 11 through 13 they were taken captive by a godless culture. As the church, we're supposed to be counter-cultural, to be different! We're supposed to shine Christ, but too often we slide into the world. In verse 16 they were a byword. The people of God had become a joke. The world is still laughing at the church!
I believe this passage is calling not only the captives in Babylon to prayer, but the church of America to prayer, and specifically Oak Hill Baptist Church to prayer. A church that doesn't care about the Universal Church has become complacent to the commands of Christ!
Charles Spurgeon said, "A True-Hearted believer does not live for himself. Where there is abundance of grace, a great strength of mind in the service of God, there is sure to be a spirit of unselfishness…" Also John Owen said, "What an individual is in secret, on his knees before God, that he I and no more."
The way Daniel prayed gives us a way to pray for our church
Run to the Word (v.2) Daniel was reading and praying through Jeremiah. The scripture prompted Daniel to pray. Jeremiah prophesied that God's people would be in Babylonian captivity for 70 years. They were indeed there for 70 years. Jeremiah prophesied even through persecution. His own family turned on him. No one wanted to hear his message for years! Daniel knows that the Word of God brings answers in prayer! I challenge you to pray scripture. Let me give you an example: "Christ, your servant Paul said in Philippians 4:6-7 says, "do not be anxious about anything, but in everything by prayer and supplication with thanksgiving let your requests be made known to God. And the peace of God, which surpasses all understanding, will guard your hearts and your minds in Christ Jesus." I need your peace, I want to see Oak Hill on fire for reaching the lost! I want to see the passion of Christ restored to these people, that servants would erupt for your glory! I want to see you make us uncomfortable in order to share the comfort that only Christ can bring!" Pray the Word!
Refocus on God's Presence (v.3) Daniel was serious about being in the presence of God. Sackcloth and ashes meant that Daniel longed for restoration for his people. May our desire to be in God's presence kill our desire for the world. The American church is full of two types of people: 1. Those who are saved, know it, and love Christ! 2. Those who think they are saved, but are not, they have no affections for Christ! A mark of the truly saved is a longing and affection to be with Christ! I can't wait to meet with Christ, to pray, to read, to know my Savior, the one who created me and died for me! "Peace comes not from the absence of trouble, but from the presence of God." Alexander MacLaren. "Nothing in or of this world measures up to the simple pleasure of experiencing the presence of God." AW Tozer
Repent and Confess Sin (vv.4-15) Are you broken before God? Are you broken because you've wronged God? A healthy church acknowledges that they've sinned and it repents.
Reflect upon God's Power (v. 15) Daniel reflects upon the past mercies of God when He delivered His people from Egypt.
Reignite a Passion for the Glory of God (vv.18-19)
I'd like for us to pray individually and also corporately. I'd like to lead us in a time of corporate prayer.
Ask the Lord to create in you a thirst for the Word of God.
Ask the Lord to consume you with a longing to be in His presence.
Ask the Lord to continually give you strength over sin, to hate sin, to repent from sin.
Ask the Lord to consistently show you is power.
Ask the Lord to give you an extreme craving to make known to everyone the glory of God.