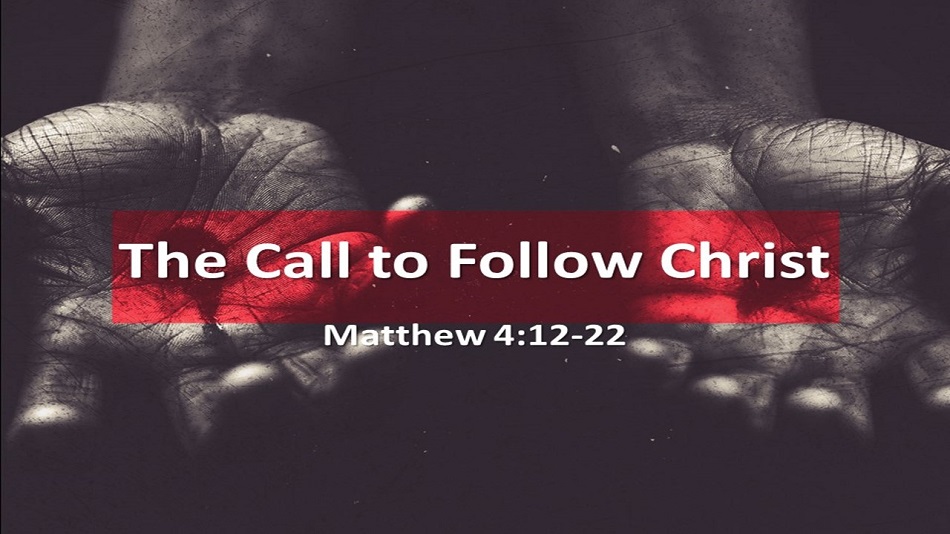 Matthew 4:12-22
Individual Objective (Matt. 4:18)
a. God has an individual plan for you. (1 Peter 2:9) "But you are a chosen race, a royal priesthood, a holy nation, a people for his own possession, that you may proclaim the excellencies of him who called you out of darkness into his marvelous light".
b. God's purpose is your eternal joy. (2 Peter 3:9, Luke 19:10) "The Lord is not slow to fulfill his promise as some count slowness, but is patient toward you, not wishing that any should perish, but that all should reach repentance.""God is most glorified when you are most satisfied in Him" – John Piper
Instant Obligation (Matt. 4:19)
I love what John MacArthur says about the phrase "follow me" by Jesus. I will try my best to paraphrase him in which he states, "in the original language this is a command that means to "come here." The literal translation uses the word "after" in which the call by Christ could easily be translated as: "Your place is following after me!" This is a command to follow Jesus by making disciples. The called are to be callers. This is not a call to just vocational ministers, this is a call to all believers.
a. The call to follow Christ requires a response. (Rev. 3:20) "Behold, I stand at the door and knock. If anyone hears my voice and opens the door, I will come in to him and eat with him, and he with me."
b. The correct response will often look radical in this society. (Luke 9:57-62) "As they were going along the road, someone said to him, "I will follow you wherever you go." 58 And Jesus said to him, "Foxes have holes, and birds of the air have nests, but the Son of Man has nowhere to lay his head." 59 To another he said, "Follow me." But he said, "Lord, let me first go and bury my father." 60 And Jesus said to him, "Leave the dead to bury their own dead. But as for you, go and proclaim the kingdom of God." 61 Yet another said, "I will follow you, Lord, but let me first say farewell to those at my home." 62 Jesus said to him, "No one who puts his hand to the plow and looks back is fit for the kingdom of God."
c. The result will be a life of disciple making. (Acts 1:8, Matt. 28:18-20) "But you will receive power when the Holy Spirit has come upon you, and you will be my witnesses in Jerusalem and in all Judea and Samaria, and to the end of the earth."
Immediate Obedience (Matt. 4:20-22)
a. It may cost us everything temporal. (Matt. 16:24-26) "Then Jesus told his disciples, "If anyone would come after me, let him deny himself and take up his cross and follow me. 25 For whoever would save his life will lose it, but whoever loses his life for my sake will find it. 26 For what will it profit a man if he gains the whole world and forfeits his soul? Or what shall a man give in return for his soul?"
b. The comfort is knowing that the reward is eternal. (Matt. 19:29) "And everyone who has left houses or brothers or sisters or father or mother or children or lands, for my name's sake, will receive a hundred fold and will inherit eternal life."