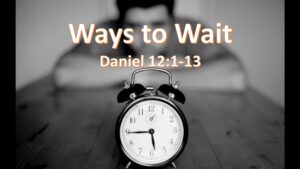 Ways to Wait
Daniel 12:1-13
Chapters 10 and 11 build the stage for chapter 12. In chapter 10 we see the reality of spiritual warfare. We may not have eyes to see, but demonic and angelic forces are doing battle everywhere. Demonic forces don't want you paying attention right now. They want you thinking of other things, not Christ and spiritual nourishment found in God's Word! In chapter 11 it describes the rise and fall of kingdoms, Persia, Greece, Egypt, and Syria. God is sovereign, He reigns over all! This morning, let's talk about waiting!
I. Rest in God's Protection (v.1).
a. Ultimate Protection. Michael- an angel, referred to the archangel in Jude 9. He will lead a victorious war against Satan in Revelation 12:7-12. This doesn't mean that Christians will be free from danger or death, just ultimately our eternity is secure. Jesus stated in Matthew 10:28 "And do not fear those who kill the body but cannot kill the soul. Rather fear him who can destroy both soul and body in hell."
b. Unparalleled Persecution. "time of trouble, such as never has been since there was a nation…" We see in Rev. 12:7-17 a description of this. Listen to verse 17 of this passage. "Then the dragon became furious with the woman and went off to make war on the rest of her offspring, on those who keep the commandments of God and hold to the testimony of Jesus. And he stood on the sand of the sea."
c. Unashamed Pardon. "But at that time your people shall be delivered," This is a passage that some pre & mid-tribulationalist grab to justify their theology. The reason I say unashamed, it will be the pardon of those who are unashamed in Christ.
II. Rejoice in God's Resurrecting Power (v.2). There will be a time of judgement. Those found written in the Lambs Book of Life will be given eternal life, those not will be sent to Hell. Jesus shares this recorded in John 5:28-29 "Do not marvel at this, for an hour is coming when all who are in the tombs will hear his voice 29 and come out, those who have done good to the resurrection of life, and those who have done evil to the resurrection of judgment."
III. Resolve to Point Others to Jesus (v.3). Listen to Psalm 126:5-6 "Those who sow in tears shall reap with shouts of joy! He who goes out weeping, bearing the seed for sowing, shall come home with shouts of joy, bringing his sheaves with him." The Great Commission must be our priority in these last days. That's the heart of Christ. How do we best spend our energy if we know that He is returning? What do waiters do? They serve!
IV. Resourcefully Ponder and Proclaim God's Word (vv.4-9). The clarity in verse 4 is to protect the Word of God, not to hide it. God's people desperately need the Word, especially in these last days. I use the word resourcefully here, because of this context. We must prepare ourselves and those around us for the return of Jesus. Are we ready? Is your neighbor ready? Listen to what Jesus said, record in Mark 13:32-36 "But concerning that day or that hour, no one knows, not even the angels in heaven, nor the Son, but only the Father. 33 Be on guard, keep awake. For you do not know when the time will come. 34 It is like a man going on a journey, when he leaves home and puts his servants in charge, each with his work, and commands the doorkeeper to stay awake. 35 Therefore stay awake—for you do not know when the master of the house will come, in the evening, or at midnight, or when the rooster crows, or in the morning— 36 lest he come suddenly and find you asleep."
V. Reestablish Making Holiness and Growth your Main Pursuit (v.10). There are many things that we won't know about Christ's return. One thing we can be certain of is how to live until His return. According to verse 2, those whom he will raise to "everlasting life" and according to verse 10, will be purified and refined. Just the opposite will happen to the wicked. Isaiah 5:20 "Woe to those who call evil good and good evil, who put darkness for light and light for darkness, who put bitter for sweet and sweet for bitter!"
VI. Realize that Christ is Worth your Patience (vv.11-13). Here is what I believe about verses 11-13. Christ Jesus will bless those who wait, endure opposition and persecution. The number here affirms God's sovereign control over every detail of history. Things will only be allowed by His decree. It will happen, either for our judgement or our joy! In the end our joy in Christ will be our final wealth.
Verse 13 says, allotted place. What does this mean? This is your eternal destiny, your reward. Continue in your steadfast duty to Christ; make disciples, proclaim the Word, endure, and your reward awaits you!