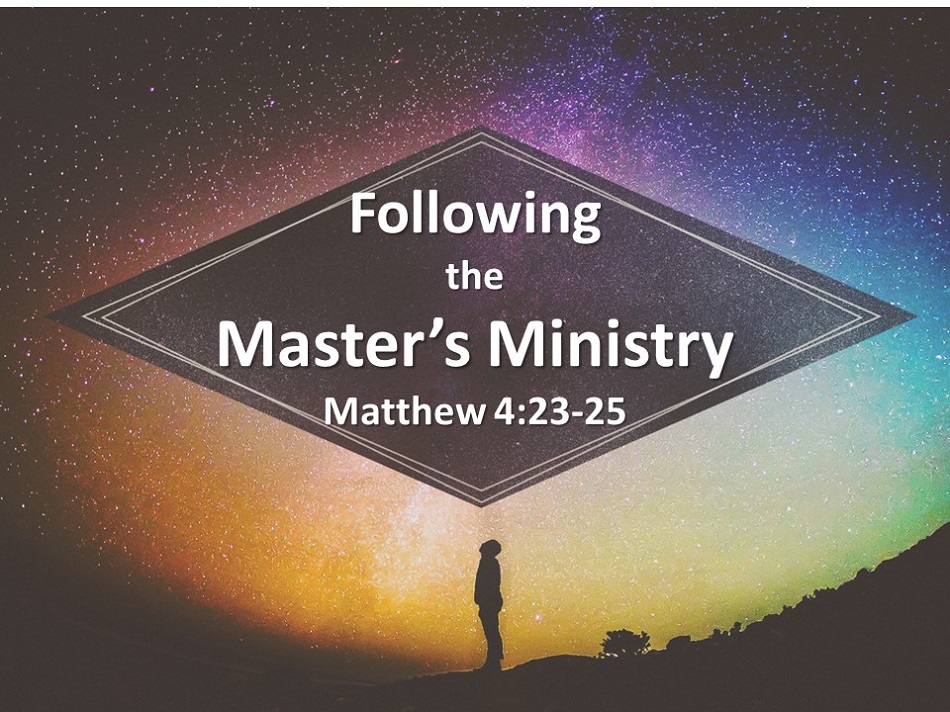 Central Idea of the Text: Jesus, with His new disciples is displaying His divinity by showing to them the importance of ministry. The ministry of teaching, preaching, and healing.
Proposition: We are called to follow in His example of ministry and solely depend upon His power for effective ministry.
Background: Jesus hears of John's arrest and goes to the Galilee region. As a result He fulfills Isaiah's prophecy. At this point Jesus has called four disciples, Peter, Andrew, John, and James. The Galilee region is a 60 X 30 mile area in which Jesus ministered in this context. The Sea of Galilee was the largest freshwater lake in Israel of 64 square miles, about the size of Washington D.C.. A synagogue was a place of worship, study, community/social activity, and legal advice. So when early Christians turned from Judaism to follow Christ, it was giving up everything that was culturally important to them, even costing many their families. They weren't allowed back in the synagogues.
I. The Master's Teaching is Our Example (Matt. 4:23)
a. A ministry of relaying. (2 Tim. 2:2) Teaching "and what you have heard from me in the presence of many witnesses entrust to faithful men, who will be able to teach others also."
b. A ministry of reaching. (Rom. 10:14-15) Proclaiming the gospel. We are to help others see the greatness, worth, and miracle of the cross! "How then will they call on him in whom they have not believed? And how are they to believe in him of whom they have never heard? And how are they to hear without someone preaching? And how are they to preach unless they are sent? As it is written, "How beautiful are the feet of those who preach the good news!"
– John had a ministry calling all toward preparation.
– Jesus had a ministry calling all to participation.
c. A ministry of restoring. Healing
Two types of restoration: 1- physical (disease), 2- spiritual (born again)
II. The Master's Touch is Essential (Matt. 4:24)
a. Gain healing through His power. (John 15:5) "I am the vine; you are the branches. Whoever abides in me and I in him, he it is that bears much fruit, for apart from me you can do nothing."
b. Help others feel His presence. (Mark 2:4) "And when they could not get near him because of the crowd, they removed the roof above him, and when they had made an opening, they let down the bed on which the paralytic lay."
c. Heed His promise. (John 14:12) "Truly, truly, I say to you, whoever believes in me will also do the works that I do; and greater works than these will he do, because I am going to the Father."
III. The Master's Truth is Effective (Matt. 4:25)
I don't want you to see numbers following Jesus as the final means of success. In fact we'll see in Matt. 8:18-22 where some made up excuses why they couldn't follow Christ. Ultimately the truth of following Christ is our only hope.
a. The Master's truth will be ignored by the false teachers. (2 Tim. 4:3-4) "For the time is coming when people will not endure sound[a] teaching, but having itching ears they will accumulate for themselves teachers to suit their own passions, and will turn away from listening to the truth and wander off into myths."
b. The Master's truth will ignite freedom. (John 8:31-32) "So Jesus said to the Jews who had believed him, "If you abide in my word, you are truly my disciples, and you will know the truth, and the truth will set you free."