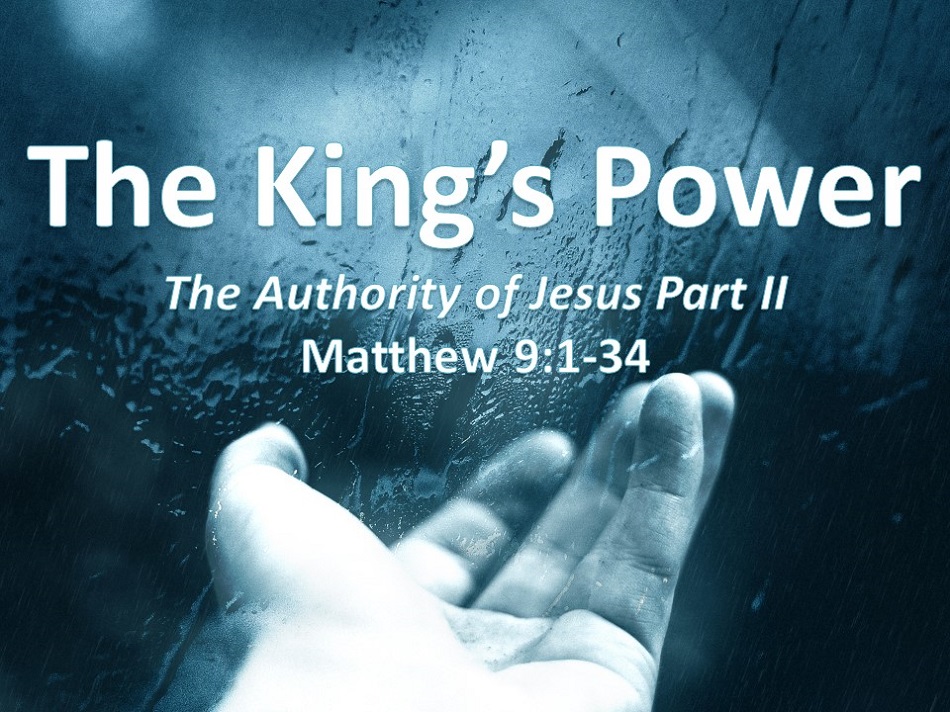 Matthew 9:1-34
The King has Power Over the Destruction of Sin (Matt. 9:1-8)
a. Man's greatest need is spiritual healing.
b. The greatest news is that Jesus forgives sin.
c. The greatest notation of God's love is the sacrifice of His Son to save.
The King has the Power to Save and Develop Disciples (Matt. 9:9-13) The call from Jesus to Matthew to "follow me" is the same call given to all disciples. It's heart-warming to see that Jesus pursues sinners. A tax collector were wealthy because they included their cut from the taxes. That's why they were hated by most people so. I want you to see that Matthew trusted Christ so much that he went from a life of wealth to a life of desperation. Isn't that what God calls us to do! He had no back up plan! He fully trusted Christ.
The King has the Power to Determine Proper Actions. (Matt. 9:14-17)
Fasting is often associated with mourning or sadness. New Testament fasting often deals with a great burden. Maybe a loved one is lost, you'd fast and pray for their salvation. You're replacing a physical necessity to focus on a spiritual reality. So because Jesus was with them, there was no need to fast. Hosea the prophet used the same language that Jesus uses in which God is the groom of His people Israel. What we see in verses 16 and 17 is that Christ is doing something new in a transformational way in which all people could come to God through a relationship with Christ. It was a celebration, not mourning.
The King has Power Over Death (Matt. 9:18-26)
a. He brings hope in the midst of despair.
b. He brings life in the midst of death.
The King has Power Over Disability (Matt. 9:27-31)
a. He is merciful.
b. He is the promised Messiah. Why did I use the word Messiah in this context? Listen to Isaiah's prophecy concerning the Messiah. Isaiah 42:6-8 ""I am the Lord; I have called you in righteousness; I will take you by the hand and keep you; I will give you as a covenant for the people, a light for the nations, 7 to open the eyes that are blind, to bring out the prisoners from the dungeon, from the prison those who sit in darkness. 8 I am the Lord; that is my name; my glory I give to no other, nor my praise to carved idols." The Messiah comes to guide us, to show us the way, to remove the blindness of sin, to remove the bondage of sin. So that we may praise Christ eternally!
The King has Power Over the Devil (Matt. 9:32-34) Satan's intention is to steal, kill, and destroy. Don't think that every disabled person, or deaf person is demon oppressed. In this case they were. Matthew is recording this so that all will know that Jesus has power over the prince of darkness, Satan. Without Christ we would experience death, but with Christ death and Satan have no power. "The sting of death is sin, and the power of sin is the law. 57 But thanks be to God, who gives us the victory through our Lord Jesus Christ." 1 Cor. 15:56-57.
Respectfully trust in Jesus' authority
Rest peacefully because of Jesus' authority
Render complete submission to Jesus' authority
Rejoice gladly in Jesus' authority