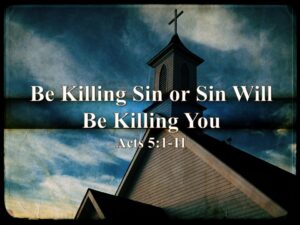 Be Killing Sin or Sin Will Be Killing You
Acts 5:1-11
The title of this message is a quote by John Owen, a pastor/theologian in the 1600s, who knew God's desire for His Church to be pure and holy. A desire that God still has today, but is rarely shared from pulpits of the American Church any longer! The great thing about expositional preaching is that we can't go around these hard passages, but we see the glory of God through and in these hard passages!
I. God is Serious about His Church (Acts 5:1-4) Ananias and Sapphira lied! In the infant stage of God's New Testament Church, God is serious about making an example of those who do not take His Church and sin seriously. You can rebuild a building, but you can't reestablish a foundation. God was establishing a foundation. (Two areas you see the most supernatural miracles, the exodus and the beginning of the early church) These were both new beginnings, the nation of Israel and the NT Church! I want to point a few things here. 1. Nowhere are we aware that they had to sell the land and give the money away, this was all voluntary. We see at the end of chapter 4 that people were giving away their stuff for the care of other believers. 2. Their lying leads us to believe that they wanted the praise of people above the approval of God. They didn't just lie, they lied to the Holy Spirit! 3. Some may look at this passage and see the importance of tithing in the New Testament, while it's important to tithe, trusting God with your finances, this is more to serve as an example of God's seriousness concerning His Bride, the Church. 4. According to Proverbs 6:16-18, God despises lying. Listen to this passage: "There are six things that the Lord hates, seven that are an abomination to him: haughty eyes, a lying tongue, and hands that shed innocent blood, a heart that devises wicked plans, feet that make haste to run to evil,"
Lying can destroy a church and God's Kingdom! Satan wants to destroy Oak Hill Baptist Church and every church in Poplarville, every church in Mississippi, and every church in this world. He will use gossips, rumor starters, and belittlers. On the other hand God uses encouragers, prayer warriors, gospel sharers and confronters to build His Kingdom, not to tear down! If a rumor comes your way shut it down! When gossip happens, shut it down! When you desire that your kingdom prevail above God's Kingdom, repent and turn to Christ!
When you are on the frontlines you will be getting shot at! When you remain in the barracks you begin to talk about how you'd defeat the enemy when in reality you have no plans to fight the war!
II. God Punishes Sin (Acts 5:5-10) We know that the church of Corinth was full of sin. Early church historians note that the Corinthian city had temple prostitutes. Paul tells the church and us today that God is serious about sin. Listen to 1 Corinthians 11:29-30 "For anyone who eats and drinks without discerning the body eats and drinks judgment on himself. 30 That is why many of you are weak and ill, and some have died." If you know the full context of this passage it's not just because they were taking the Lord's Supper in an unworthy manner, it's because they weren't serious about repenting from their sin. They weren't examining themselves. God is serious about us repenting from sin. "For the wages of sin is death, but the free gift of God is eternal life in Christ Jesus our Lord." Romans 6:23
The American church is full of sin today: Lying, Lust, Laziness (The Harvest is plentiful, the workers are few), Lacking concern for others' eternity, lacking love for others, etc.
Our daily question we must ask ourselves is: If I'm not glorifying God, why should God keep me around? I must glorify God with my life! Does Christ reign in my life or do I? Listen to Romans 5:17 "For if, because of one man's trespass, death reigned through that one man, much more will those who receive the abundance of grace and the free gift of righteousness reign in life through the one man Jesus Christ."
III. Sin Should Cause Us to Surrender to Christ (Acts 5:11) This event happening served as a great warning toward the seriousness of the Church and to our sin!
How should we deal with sin?
a. Repent– Acts 3:19-20 "Repent therefore, and turn back, that your sins may be blotted out, that times of refreshing may come from the presence of the Lord, and that he may send the Christ appointed for you, Jesus," We may need serious accountability to break the bondage of sin, find it! Run from it! Run to Christ! While you are still alive, repent and make your life about the worth of Christ and not the worth of self! Galatians 2:20 "I have been crucified with Christ. It is no longer I who live, but Christ who lives in me. And the life I now live in the flesh I live by faith in the Son of God, who loved me and gave himself for me."
b. Restore– Galatians 6:1-2 "Brothers, if anyone is caught in any transgression, you who are spiritual should restore him in a spirit of gentleness. Keep watch on yourself, lest you too be tempted. 2 Bear one another's burdens, and so fulfill the law of Christ." Let's find ways to restore, to equip, to encourage, to reenergize for ministry!
c. Recline– Matthew 11:28-30 "Come to me, all who labor and are heavy laden, and I will give you rest. 29 Take my yoke upon you, and learn from me, for I am gentle and lowly in heart, and you will find rest for your souls. 30 For my yoke is easy, and my burden is light." Rest in Christ! Find your rest in Jesus, not man! Jesus loves you, turn away from yourself and turn to Him!