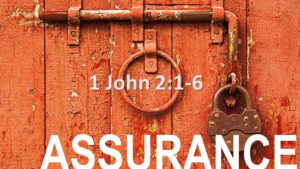 Assurance
1 John 2:1-6
I. Jesus is Our Advocate (v.1) The advocate parakletos means one who comes alongside, comforter, helper. There is nothing more comforting to know than even though I have sinned, I have an attorney who will walk with me. (courtroom and speeding ticket)
II. Jesus is Our Atonement (v.2) Not only do we have an attorney, we have an attorney who has paid the punishment for the criminal. The word propitiation hilasmos means appeasement. Jesus was the payment for us. The sacrificing of animals came as result of Adam and Eve's sin. It was a foreshadowing of what was to come, our Savior, Jesus. God placed His full wrath on His Son, the wrath that you and I deserve. The same object of God's wrath was placed on another human, yet one without sin. Heb. 2:17 shares this "Therefore he had to be made like his brothers in every respect, so that he might become a merciful and faithful high priest in the service of God, to make propitiation for the sins of the people." "Why do bad things happen to good people? That only happened once and He volunteered." – RC Sproul
III. Our Assurance of Jesus is Acknowledged by Our Affections for Him (vv. 3-6) We do what we truly believe! If you truly love Christ, you will not be ashamed of Christ! "Our deeds are not the basis of our salvation, they are the evidence of our salvation. They are not foundation, they are demonstration." – John Piper
a. Through obedience (v.3) When we love someone we strive to respect and honor their wishes. What commands? The commands of Jesus were the Great Commandment, love God and love people, and the Great Commission, to go make disciples. The Great Commandment will naturally fuel the Great Commission. If we love God we'll want to obey, love people, share the gospel, help others grow in the gospel. The main question, do we have a changed life that strives to keep the Lord's commandments? It's a pattern of life that gives evidence that one has been born again.
b. Through integrity (v.4) When we love someone we strive to be truthful.
c. Through perseverance (vv.5-6) We can continue the journey because of the hope of the one who holds the future.
The word abide means to dwell or be connected to. We will walk with Jesus, our advocate, our atonement, and the focus of our affections. John 15:4-5 "Abide in me, and I in you. As the branch cannot bear fruit by itself, unless it abides in the vine, neither can you, unless you abide in me. I am the vine; you are the branches. Whoever abides in me and I in him, he it is that bears much fruit, for apart from me you can do nothing."
Is Jesus your advocate? Has He atoned your sins? Do you have affections for Him? If you can answer yes to these questions, be assured that Christ is working within you!