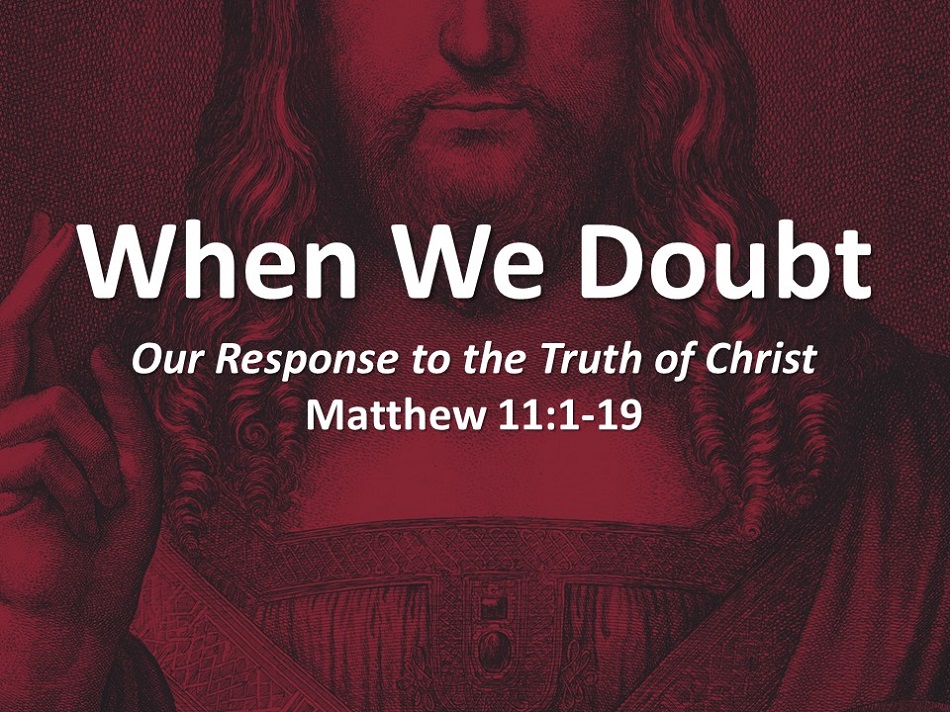 Chapter 10 gives us the assurance that Jesus is indeed the promised Messiah. The focus of Matthew's gospel is to answer the question, "Who is Jesus?" Matt. 10:40-42 confirms the fact that we must receive this fact by receiving those Christ has sent. This sets the stage for Chapter 11, what if we doubt? Matthew chapters 11 and 12 give us reactions to the response of who Jesus is. How will we respond to Jesus? Let's examine verses 1-3 to begin.
When the New Testament talks about doubt, it is primarily referring to the believer. Only once does the NT refer to an unbeliever when doubt is mentioned. Doubt is a problem among believers. What did Jesus say when the boat was in the storm, "Oh ye of little faith…"
v.1- Jesus had graduated the twelve disciples to go teach, preach, and heal. Now Jesus is going out to do the same.
v.2- Disciples of John the Baptist came to ask questions. John had affirmed Christ, but something caused him to doubt. You have to remember Jesus was doing some stuff that didn't set well with religious leaders. He was raising the dead, healing, and preaching. In 9:14 the disciples of John asked questions about fasting. A custom taught and practiced, but that Jesus referred to as only necessary when the Groom is gone. This doesn't set well with John's disciples. You have to remember John is in prison, he has no idea what is really happening!
v.3- The question is, is Jesus the Messiah? John was saying, I believe you are the Messiah, I prepared the way for you, I baptized you, should I continue believing this? The great thing about John is that he went to the source!
Moments of Doubt (Matt. 11:1-3)
a. Difficult Circumstances– John was in prison awaiting possible death. Scholars believe he was in a deep pitted prison. If you are the Christ of all comfort, why do you allow this to happen? Satan wants us to doubt and see only our view of the plan of God. John went to Christ! We must go to Christ! The answer to difficult circumstances, go to Christ!
b. Deceptive Culture– Worldly influences cause many to doubt. Unreal expectations of the Messiah to be a conquering military leader caused much doubt among the disciples. The worldly influences caused unbiblical expectations. When John's disciples came to him telling him about these different things that He was doing and not doing, naturally when there is a worldview that is not in line with Christ, there will be doubt. The answer to a deceptive culture, go to the source of truth, God's Word. Jn. 8:32, "you will know the truth and the truth shall set you free."
c. Distorted Conversations– The product of miscommunication. John was only getting news about Jesus second hand. Have you played the gossip game? The original message becomes distorted. What is the answer? Go to the source! I love what happened in Acts 17 when Paul was preaching. The Bereans checked the source, the Word of God! We are to go to the source. Hebrews 2:1 makes it crystal clear that we should study God's Word, "Therefore we must pay much closer attention to what we have heard, lest we drift away from it."
d. Disillusioned Convictions– Impatience can lead to doubt. Unfulfilled convictions or expectations of what you believe should happen, but doesn't happen, can cause doubt. Again, we only see a limited perspective of God's larger plan. Go to the source. Philippians 4:11-13 "Not that I am speaking of being in need, for I have learned in whatever situation I am to be content. I know how to be brought low, and I know how to abound. In any and every circumstance, I have learned the secret of facing plenty and hunger, abundance and need. I can do all things through him who strengthens me."
Moved Toward Determination (Matt. 11:4-7)
In Luke 7:18-23 we see Luke's side of the story. Jesus turned the question they had into an undeniable answer. If we as believers will go to the source of Creation with our doubts, He will move in such a way that will show us the direction of His hand. When we seek God we will find Him. When we set out on a journey to find the truth of Jesus, He will revile Himself to us through His Word, His Worship, His Witnesses, and His World. James 4:8 "Draw near to God, and he will draw near to you…", Hebrews 11:6 "and without faith it is impossible to please him, for whoever would draw near to God must believe that he exists and that he rewards those who seek him."
Mentioned as a Devoted Follower (Matt. 11:7-19)
vv.7-15 Jesus gives us a wonderful testimony of John, It goes to show that even when we doubt, Jesus doesn't give up his esteem of John. In Matthew 14 we conclude that John's doubt was removed and restored. In verse 12 John had his doubt removed. The reason the disciples of John brought the body to Jesus is because they believed Jesus, because John believed in Jesus. They came to Jesus! We must come to Jesus with our doubt.
Monday's Direction
Resolve to seek God daily. (1 Corinthians 15:3) "For I delivered to you as of first importance what I also received: that Christ died for our sins in accordance with the Scriptures"
Realize God may be deepening your faith. (Romans 5:3-4) "Not only that, but we rejoice in our sufferings, knowing that suffering produces endurance, and endurance produces character, and character produces hope, and hope does not put us to shame, because God's love has been poured into our hearts through the Holy Spirit who has been given to us."
Recognize God's directive hand at work. (John 20:29) "Jesus said to him, "Have you believed because you have seen me? Blessed are those who have not seen and yet have believed."