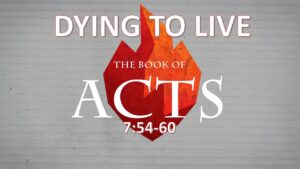 Dying to Live
The Certainty of a Christian's Death Causes One to Truly Live
Acts 7:54-60
A lot of ground has been covered in Acts this past Wednesday night. We picked up where Pastor Dalton finished. One statement he made in his sermon, I believe was worth the price of admission. "Never shy away from sharing the gospel!" I would add that Jesus is worth it! This caused opposition and will cause opposition for true believers in Acts and for us today. The comforts of cultural Christianity are quickly dying! In Chapter 6, From the growth of the church came change, growing pains. The Hellenists widows were being neglected. The church's solution and our solution today is to choose servants. We get from the Greek word "Doulos" meaning servant, which we get the word deacon. One of those 7 original servants was Stephen. Stephen was arrested for doing miracles and preaching Jesus. When Stephen is questioned he doesn't shy away from sharing the message of Jesus Christ. He ties the whole metanarrative of the Jewish people, Israel, to point to Jesus Christ! His sermon was cut short because of the history listen leading to the killing of Jesus. Listen to Acts 7:51-53. Stephen was obedient until the end! Stephen's death gives us life lessons on how to live for Christ today!
Live to Obey Christ (vv.51-55) We know a few commands that Jesus made for us to live by today. Summed up the Great Commandment, love God and love people, and the Great Commission, to make disciples.
a. Obedience causes opposition (v.54)
b. Obedience is fueled by the Holy Spirit (v.55)
Live to Obtain a Glimpse of Christ (v.56) Those who see God the most do the most for the Kingdom! They're driven by the filling of the Holy Spirit. They see the authority of Christ, the glory of Christ, the greatness of Christ!
How do I obtain this glimpse of Christ?
a. Pray to see the glory of Christ. Those who truly see God will be different! Those who truly encounter God will be different! Why do people not witness? They have never seen God!
Acts 4:31 "And when they had prayed, the place in which they were gathered together was shaken, and they were all filled with the Holy Spirit and continued to speak the word of God with boldness."
b. Allow the Word of God to direct your purpose for God.
Romans 1:16 "For I am not ashamed of the gospel, for it is the power of God for salvation to everyone who believes, to the Jew first and also to the Greek."
Hebrews 12:2 "looking to Jesus, the founder and perfecter of our faith, who for the joy that was set before him endured the cross, despising the shame, and is seated at the right hand of the throne of God."
Limit media intake! Increase your Bible intake! Increase your Proclamation output! Increase your Praise output! You will see a glimpse of the glory of God!
Live to Offer the Love of Christ (v.60a) Being able to forgive someone who has hurt you is a sign of Christian maturity and the work of the Holy Spirit. Grudges equal an early grave, gratitude equals grace!
Forgiving others is a picture of the gospel. Christ forgave you didn't He? When we come to the reality of just how worthless we are, and how much we desperately need Christ forgiveness, this fact gives birth to us forgiving others. Ephesians 4:32 "Be kind to one another, tender-hearted, forgiving one another, as God in Christ forgave you." Only people who know the forgiveness of Jesus at a deep level can offer such grace to others! Don't miss this, Saul would later become the answer to Stephen's prayer! We will encounter Saul in chapter eight!
Live for the Objective to be Resurrected with Christ (v.60b) A graveyard is a perfect reminder that there is something more! This is not all! We await the resurrection just as Christ rose, we too will rise!
When Stephen fell asleep in this life, he awoke in glory. Though he suffered like Christ, he was guaranteed to be resurrected like Christ. So when you go to sleep tonight, think about this text. Welcome tomorrow morning with the resurrected future with Christ on your mind. When you are living with the resurrection on your mind, you are living the life Christ wants us to live!
John 11:25 "Jesus said to her, I am the resurrection and the life. Whoever believes in me, though he die, yet shall he live."