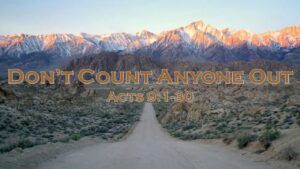 Don't Count Anyone Out
Acts 9:1-30
The Encounter with Christ (Acts 9:1-9) Saul was one of the individuals most notorious for ridding the world of this new group known as the Way! A chief of sinners, a terrorist of terrorist, a fierce opponent of Christianity! This was all until he encountered Christ! We are all opponents of Jesus until we truly encounter Christ through salvation! Ephesians 2:1-5 states: "And you were dead in the trespasses and sins 2 in which you once walked, following the course of this world, following the prince of the power of the air, the spirit that is now at work in the sons of disobedience— 3 among whom we all once lived in the passions of our flesh, carrying out the desires of the body and the mind, and were by nature children of wrath, like the rest of mankind. 4 But God, being rich in mercy, because of the great love with which he loved us, 5 even when we were dead in our trespasses, made us alive together with Christ—by grace you have been saved"
a. Everyone must have an encounter with Christ to be saved. (vv.4-5) Your encounter may not look like Jesus speaking to you on a road, more than likely it will not be. There must be an extreme conviction from the Holy Spirit of your sin and a drawing from the Holy Spirit, the need for Jesus to be your Savior!
b. Not everyone will understand your encounter (v.7) In Acts 22:9 Paul explains that these men did not understand the voice.
I want you during the course of this message to be thinking of someone who maybe has been counted out by you or someone else. You've basically thought that there is no way they can be saved! I want you to commit to pray that they have a true encounter with Jesus Christ! You may boldly do that at the alter at the end of the service if you wish.
The Emboldened Ministry of Ananias (Acts 9:10-19) We are called to help people on their journey. What if Ananias had not been obedient to God's call? Would we have had the missionary response from Paul because of one man's disobedience? What if Billy Graham's Sunday School Teacher had not invited him to a revival? What if the pastor that shared the gospel with CH Spurgeon had stayed home because of the snow? Be emboldened in your ministry for Christ! If you're a believer in this room you are called to ministry, some within the workplace, some to equip the saints! You are the answer to others' salvation!
The Evidence of Saul's Salvation (Acts 9:20-25) How do you or I know that we are born again? There is fruit! Saul went from persecutor of Christians to a preacher for Christ! He was racially saved to care enough about people to share the gospel! If there is no fruit of salvation, you may have had a warm emotional experience, but no transformation! You may have religion, but no relationship. 1 John is a book of assurance. John writes in 1 John 5:13 "I write these things to you who believe in the name of the Son of God, that you may know that you have eternal life."
Galatians shares the fruits of the Spirit in Galatians 5:22-23 "But the fruit of the Spirit is love, joy, peace, patience, kindness, goodness, faithfulness, 23 gentleness, self-control; against such things there is no law."
John 13:35 "By this everyone will know that you are my disciples, if you love one another."
Be sure that you know Jesus, that you've encountered Him, that you are born again!
The Encouragement Ministry of Barnabas (Acts 9:26-30) Barnabas like Ananias was taking a risk. We see in Acts 4:36 that Barnabas is called the "Son of Encouragement." When we risk giving ourselves in the discipleship process, to encourage others' growth in Christ, it can be costly and tough. For those who are encouragers, thank you! I believe everyone should have a Paul in their life, someone who challenges them to live for Christ, a Barnabas who is their cheerleader, and a Timothy, someone that they pour into.
I want to close with this in mind! There are Sauls outside these doors who by the grace of Jesus Christ are ready to become Pauls. They are needing an encounter with Jesus Christ! They are needing someone emboldened enough, who cares enough to tell them. As they begin the journey with Jesus they will need encouragement. It doesn't take long after your commitment to follow Jesus that Satan tries to bring doubt. Let's encourage! Who is the person or people that have been counted out? Will you bring them before the Lord today?