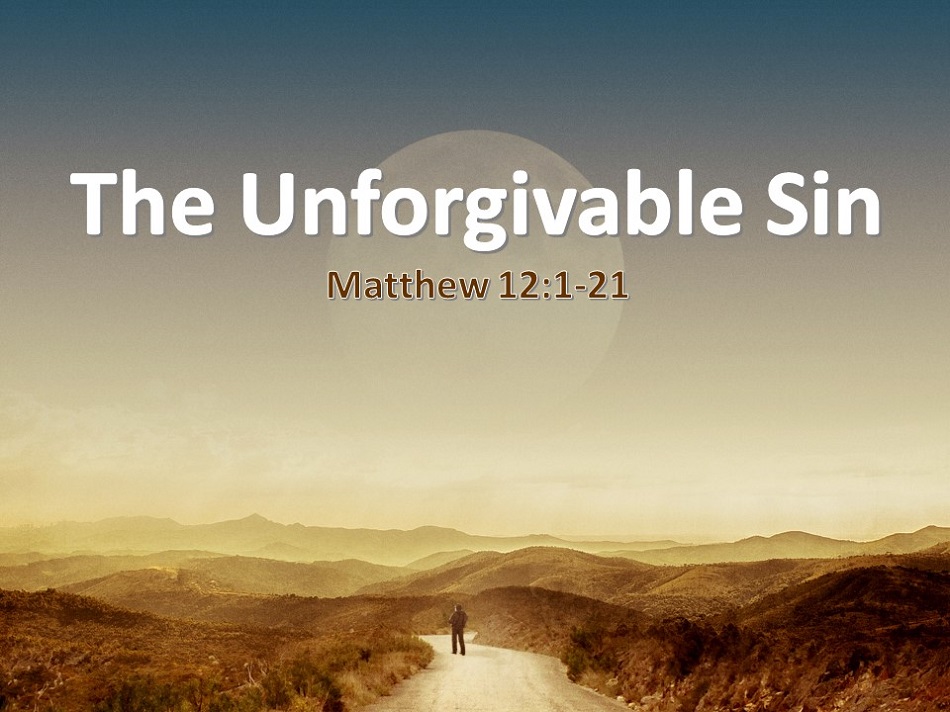 The Savior was Criticized (Matt. 12:22-30)
In this context Jesus is speaking to a group in whom he knows have hardened their hearts towards Him and have contributed His work to the work of Satan. They had seen Jesus heal everyone and raise the dead. They didn't reject Christ for lack of evidence, they rejected Christ for lack of humility! Permanent resignation from the call of Christ by the Holy Spirit leads to permanent condemnation on the "Day of Judgement."
The Unforgivable Sin is Clarified (Matt. 12:31-32)
Blasphemy of the Holy Spirit is the defiantly prideful and permanent rejection of the only avenue of salvation and the awareness for the need of forgiveness (vv.31-32)
The Holy Spirit draws us to salvation. (John 6:44) "No one can come to me unless the Father who sent me draws him. And I will raise him up on the last day."
The Holy Spirit drives us to repentance. (John 16:8) "And when he comes, he will convict the world concerning sin and righteousness and judgment:"
The Holy Spirit declares us to be children of God. (Romans 8:16) "The Spirit himself bears witness with our spirit that we are children of God,"
This is recorded in Luke 12:10 also. You cannot be saved if you have a prideful continual rejection of the calling of the Spirit of God. If you have ever worried that you have committed the unforgivable sin of "Blasphemy of the Holy Spirit", this is great evidence that you have never committed this sin!
I want you to see in Stephen's final speech what the unforgivable sin looks like. Listen to Acts 7:51 "You stiff-necked people, uncircumcised in heart and ears, you always resist the Holy Spirit. As your fathers did, so do you."
1 Cor. 2:10 "these things God has revealed to us through the Spirit. For the Spirit searches everything, even the depths of God."
John 16:13 "When the Spirit of truth comes, he will guide you into all the truth, for he will not speak on his own authority, but whatever he hears he will speak, and he will declare to you the things that are to come."
The Sinful Will be Condemned (Matt. 12:33-37)
Matthew mentions in verses 36 and 37 that our words condemn us. Words against Christ can be forgiven, proof would be Peter's words of denial of Christ. He humbled himself, repented, and ignited the Church. The same way we are condemned is the same way we are converted, our words of affirmation or our words of atheism. Paul tells us in Romans 10:9-10 "because, if you confess with your mouth that Jesus is Lord and believe in your heart that God raised him from the dead, you will be saved. 10 For with the heart one believes and is justified, and with the mouth one confesses and is saved."
Psalm 14:1 "The fool says in his heart, "There is no God." They are corrupt, they do abominable deeds; there is none who does good."
So what do we do about those whom we see have hardened their heart toward God and make it known. We pray for God's love to break through the darkness and hardness of their heart. We pray for the blindness to be removed. Historically speaking some of the most notorious haters of Christ have been transformed to become some of the most faithful servants of Him before death. Paul was one of these, as well as Lee Strobel and several others.
Loving the Atheists
Treat them with dignity and listen carefully.

Be willing to address their unbelief.

Recognize that atheists really believe in something.

Pursue their hearts through their heads.
Our goal is not to defeat atheists in a debate, but to show them the glory and beauty of Christ.