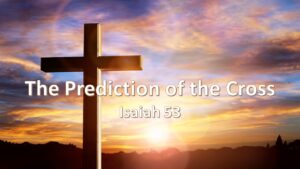 The Prediction of the Cross
Isaiah 53
This passage was written 700 years before the birth of Christ! If we really believe that Jesus was predicted in the Old Testament and fulfilled the recordings of the New Testament, it better change everything. We can no longer be complacent about our faith. People's eternal state hang upon our faithfulness and obedience to the gospel message. May this Old Testament passage encourage our faith in Christ and cause us to engage in disciple making!
The Rejected Savior. (Isaiah 53:1-3) (John 12:37-38; Jn 13:21-22; Jn 18:2-5; Jn 18:38-40) "Though he had done so many signs before them, they still did not believe in him, 38 so that the word spoken by the prophet Isaiah might be fulfilled: "Lord, who has believed what he heard from us, and to whom has the arm of the Lord been revealed?"
The Righteous Substitute. (Isaiah 53:4-8) (John 10:11) "I am the good shepherd. The good shepherd lays down his life for the sheep."
a. We deserve the punishment for our sins, yet Jesus paid it.
b. He was innocent of sin, yet bore our sin.
c. He was willing, are we willing to live for Him? (v.7) Why do you think he was willing? Because of His love for you! John 10:17-18 "For this reason the Father loves me, because I lay down my life that I may take it up again. 18 No one takes it from me, but I lay it down of my own accord. I have authority to lay it down, and I have authority to take it up again. This charge I have received from my Father."
He suffered in our place, His wounds heal us!
He was scourged and flogged by a whip with multiple leather cords that would commonly have bits of sheep bone and sharp pieces of metal embedded throughout. This instrument were designed to inflict maximum pain and blood loss, as each lash would have ripped out large pieces of flesh, essentially exposing the skeletal muscles completely. With his hands tied to a post, Jesus endured this horrific pain at the hands of Roman soldiers as a crowd of onlookers watched. And like many other things on this day, Jesus had known this was coming – specifically predicting flogging to the disciples in Mark 10:34.
In Isaiah 52, written hundreds of years before this moment, the prophet had written: "many were astonished at you, his appearance was so marred, beyond human semblance, and his form beyond that of the children of mankind…" Jesus has truly been marred beyond resemblance. And now, for the crucifixion. Today, when you hear the word crucifixion, you probably instantly think of Jesus. But back then, this was a method of torture, humiliation, and execution that ancient Rome had used liberally on non-citizens, criminals who would threaten Roman rule. It was a death reserved for the absolute worst of humanity. They drove giant nails into His wrist them. His feet would be given the same treatment on the other beam of the cross.
Crucifixion caused suffocation. The entire weight of Jesus' body hanging by His wrists, He could not properly exhale. Those hours on the cross, every single breath Jesus takes is literally excruciating. Jesus endured the worst type of execution imaginable to human existence.
The Rich Man's Submission. (Isaiah 53:9) (John 19:38-42) "After these things Joseph of Arimathea, who was a disciple of Jesus, but secretly for fear of the Jews, asked Pilate that he might take away the body of Jesus, and Pilate gave him permission. So he came and took away his body. 39 Nicodemus also, who earlier had come to Jesus by night, came bringing a mixture of myrrh and aloes, about seventy-five pounds[b] in weight. 40 So they took the body of Jesus and bound it in linen cloths with the spices, as is the burial custom of the Jews. 41 Now in the place where he was crucified there was a garden, and in the garden a new tomb in which no one had yet been laid. 42 So because of the Jewish day of Preparation, since the tomb was close at hand, they laid Jesus there."
The Required Sacrifice. (Isaiah 53:10-11) (Romans 3:23-25) "for all have sinned and fall short of the glory of God, 24 and are justified by his grace as a gift, through the redemption that is in Christ Jesus, 25 whom God put forward as a propitiation by his blood, to be received by faith. This was to show God's righteousness, because in his divine forbearance he had passed over former sins." Leviticus 1:3 states, "If his offering is a burnt offering from the herd, he shall offer a male without blemish. He shall bring it to the entrance of the tent of meeting, that he may be accepted before the Lord."
The Redeemer's Success. (Isaiah 53:12) (Luke 22:37) "For I tell you that this Scripture must be fulfilled in me: 'And he was numbered with the transgressors.' For what is written about me has its fulfillment." In this passage we see the promise of the resurrection for all believers, the promise of eternal life. We also see the promise that Jesus will be known as the King of all of creation. Philippians 2:9-10 clearly states, "Therefore God has highly exalted him and bestowed on him the name that is above every name, so that at the name of Jesus every knee should bow, in heaven and on earth and under the earth."
Application:
The Holy Spirit uses the Word of God to reveal Jesus Christ
This passage was written 700 years before Christ; therefore, it has value evangelistically and apologetically to lost people that God fulfills His promises through Jesus Christ.
This passage should bolster the faith of all believers, reminding us that Jesus did what was prophesied and He will return.