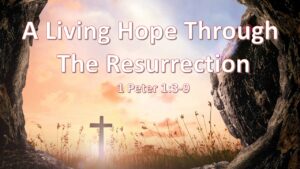 A Living Hope Through the Resurrection
1 Peter 1:3-9
Here is what I believe this passage answers; I know the tomb is empty, now what? I think Peter answers two critical questions that every follower of Jesus Christ should know how to answer because of the resurrection! 1. What is the reason for my hope? 2. What are the results of my hope? According to 1 Peter 3:15 we must give a reason; "but in your hearts honor Christ the Lord as holy, always being prepared to make a defense to anyone who asks you for a reason for the hope that is in you; yet do it with gentleness and respect."
Let's allow the text to answer these two questions. This letter, according to verse 1, is written to the exiled believers. An exiled believer is anyone not presently in Heaven, so unless you've passed away between entering this building this morning and now, that would be all believers in this room.
I. What is the reason for a living hope? (1 Peter 1:3) Here is the reason according to verse 3.
a. Great Mercy– We do not deserve God's mercy!
b. New Birth– Remember Nicodemus struggled with this "being born again." That's what we have to do!
c. Christ's Resurrection– God's mercy and new birth are both not possible if the resurrection never happened. According to 1 Cor. 15:6 Jesus appeared to more than 500 people after the resurrection. We know that it happened!
II. What are the results of a living hope? (1 Peter 1:4-9)
a. Inheritance (v.4)- Inheritance with Christ that is imperishable, undefiled, and unfading.
b. Kept (v.5)- This is all guarded or kept depending on the version you have!
c. Faith (v.5)- Faith according to Hebrews 11:1 is "the assurance of things hoped for, the conviction of things not seen."
d. Joy (vv.6; 8)- Joy is a true sign of the new birth! Regardless of the circumstances, you have been born again! You have joy!
e. Praise (v.7)- When gold finally becomes pure, it is honored, because the work has been done, it is more valuable. I believe this verse is talking about the honoring of Christians becoming purified as much as it's talking about our praise for Christ. We are being made into His likeness, we are having the imperfections cleaned away from us. We praise God for His resurrection, His redeeming work, and He praises us for going through the process. He says "well done my good and faithful servant!"
f. Salvation (v.9)- This is the most important result of the resurrection! If you have placed faith in the resurrection, that Christ died for your sinful worthless self, was buried to fulfill the punishment that we deserved, and rose again on the third day, you have been saved! I don't ever want to get over my salvation and I hope you don't either! The fact that the tomb is empty drives my days ahead! The fact that the bomb is empty gives me purpose!
If you don't have this living hope, you don't have Christ! In order to get this living hope you must have Christ!