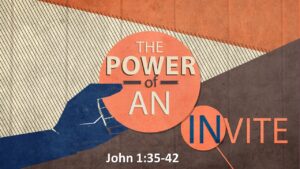 The Power of an Invite
John 1:35-42
During the invitation time I'm going to ask you if you would pray that God would give you boldness like in Acts 4:31 "And when they had prayed, the place in which they were gathered together was shaken, and they were all filled with the Holy Spirit and continued to speak the word of God with boldness."
Invitations Provide Inspiration (John 1:35-37) John the Baptist knew that Jesus was the Messiah. Inspirationally, he proclaimed this message to his two disciples, Andrew and what many scholars believe the other was John, the author of this gospel. John the Baptist knew that Jesus was the most important person to follow. Have you ever been speaking to a friend and another person walks up and begins having a conversation with your friend. Your friend never introduces you to them? Why is that? They're embarrassed of you aren't they? If it were a life or death situation, and that person knew the cure, you'd introduce them wouldn't you? Why is it that we have to wait until we're touching a casket to begin thinking about telling our friends about Jesus?
What initially brought you to church?
6-8% Walked in by own initiative
2-3% Liked a program offered
8-10% Liked the pastor
3-4% Had a need met by the church.
1-2% Were Evangelized
3-4% Attracted by Sunday School
70-85% Invited by a relative or friend!
The average is 83% came to church because of an INVITE by a friend or relative.
Billy Graham Association issued a statistic that says, the average Christian can identify 7 unchurched people that they have a personal relationship with. They conducted a national survey and 82% of the non-churched say they would come to church with a friend or relative if invited.
Invitations Provoke Interest (John 1:38-39)
Invitations Must be Practiced Intentionally (John 1:40-41)
Invitations Prompt New Identity (John 1:42) Could you imagine if Andrew had never introduced Peter to Jesus? Paul tells us that that we are new creations in Christ, adopted, grafted in, saints, heirs of God. We are no longer enemies of the cross. John says we're beloved children of God, light bearers. You have crossed from death to life. Your name is written in the Lambs Book of Life!
In Acts 9:13-15 "But Ananias answered, "Lord, I have heard from many about this man, how much evil he has done to your saints at Jerusalem. 14 And here he has authority from the chief priests to bind all who call on your name." 15 But the Lord said to him, "Go, for he is a chosen instrument of mine to carry my name before the Gentiles and kings and the children of Israel." What if Ananias wasn't obedient to God's call?
I believe we're practical atheist. We say we believe, yet we fail to invite others to Jesus! We say there is a literal hell, yet we don't act like it in our evangelism practices! Practical atheism never applies the truth, it is just acknowledged. If you truly believe something you will do it!
Invitations Should Help People Encounter the Presence of Jesus Individually (Luke 5:17-20) "On one of those days, as he was teaching, Pharisees and teachers of the law were sitting there, who had come from every village of Galilee and Judea and from Jerusalem. And the power of the Lord was with him to heal. 18 And behold, some men were bringing on a bed a man who was paralyzed, and they were seeking to bring him in and lay him before Jesus, 19 but finding no way to bring him in, because of the crowd, they went up on the roof and let him down with his bed through the tiles into the midst before Jesus. 20 And when he saw their faith, he said, "Man, your sins are forgiven you."
Sunday School teacher Edward Kimball helped lead Dwight L. Moody to Christ; Moody was invited to Sunday School and eventually Christ!
J. Wilbur Chapman was converted at a Dwight L. Moody evangelistic meeting;
Billy Sunday was converted at a Chapman meeting;
Mordecai Ham was converted at Billy Sunday meeting;
and Billy Graham was converted at a Ham meeting. At 16 years old, Graham followed Jesus!
a. Will you connect others to life or condemn them to death?
b. Will you be concerned with others' eternity or consumed by selfish endeavors?
Have you come to Jesus?
If you have come to Jesus, are you helping others come to Him as well?