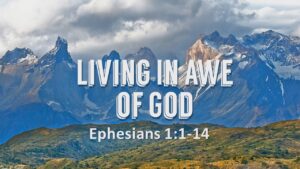 Living in Awe of God
Ephesians 1:3-14
A few weeks ago we started a new series called "Baptist to the Bone: What we Believe" based off the Baptist Faith and Message 2000. We began by affirming that God's Word, Scripture, is our authority and basis for all that we believe! We cling to it! Some may call us Bible thumpers, but I'd like to say that we Baptist are people of the Word! Today we examine the doctrine of God!
"There is one and only one living and true God. He is an intelligent, spiritual, and personal Being, the Creator, Redeemer, Preserver, and Ruler of the universe. God is infinite in holiness and all other perfections. God is all powerful and all knowing; and His perfect knowledge extends to all things, past, present, and future, including the future decisions of His
free creatures. To Him we owe the highest love, reverence, and obedience. The eternal triune God reveals Himself to us as Father, Son, and Holy Spirit, with distinct personal attributes, but without division of nature, essence, or being." BF&M 2000
We see a glimpse of the trinity in Genesis 1:26 "Then God said, "Let us make man in our image, after our likeness…" There are many different directions that I could have gone, but one passage that shows the awesomeness of God in His three persons is Ephesians 1:1-14
The Father Planned You (Ephesians 1:3-6)
a. The Plan, Growth v.4 "that we should be holy and blameless before him."
b. The Price, Grace v.5 "he predestined us for adoption as sons through Jesus Christ…"
c. The Process, Guidelines v. 5 "according to the purpose of his will," We don't have to guess His will because of His Word! His Word is our guidelines for God's will for our life.
d. The Praise, God's Glory v.6 "to the praise of his glorious grace, with which he has blessed us in the beloved."
Because God has planned you, shouldn't we be in awe of His glory!
"People in awe of God never complain that church is boring." R.C. Sproul
Why should we have a biblical, awe inspiring view of God?
If our view of God is not consistent with that of the Bible, God begins to look like us, we begin to justify sin, and really our version of god becomes an idol, that eventually we feel doesn't control the universe. Eventually we portray a me-centered and man-centered God. Our view of God is small and blasphemous.
Charles Misner, a scientific specialist expressed Ablert Einstein's skepticism of religion, because Einstein noticed worshipers not being awe struck by the Creator of the Universe.
"The design of the universe… is very magnificent and shouldn't be taken for granted. In fact, I believe that is why Einstein had so little use for organized religion, although he strikes me as a basically very religious man. He must have looked at what the preachers said about God and felt that they were blaspheming. He had seen much more majesty than they had ever imagined, and they were just not talking about the real thing. My guess is that he simply felt that religions he'd run across did not have proper respect…for the author of the universe.
Our view of God fuels our worship of God and fuels our service to God. William Carey left England in 1793 for India, in order to share the gospel to those in that country. Carey stated, "though I were deserted by all and persecuted by all, yet my faith, fixed on the sure Word, would rise above all obstructions and overcome every trial. God's cause will triumph."
The Son Purchased You (Ephesians 1:7-12)
It is the Son's purpose that you should be purchased by His blood. Luke 19:10 "The Son of Man came to seek and save the lost."
Look at the word purpose in verses 5, 9, 11. Some versions translate this as "according to His good pleasure." Other translations make it clear of what God is doing by using the word purpose. Sure, it pleases God to do these things, because it's His priority! It is His purpose that we are adopted! It is His purpose that we know His mysteries! It is His purpose that we obtain an inheritance. God's Purpose is the Son's priority. The work of the cross was on purpose! We know this from Is 53:10 written 700 years before the cross; "Yet is was the will of the Lord to crush him…"
I'm thankful that I serve a God whose purpose was to purchase sinners! Of which I am one!
The Holy Spirit Preserves You (Ephesians 1:13-14)
a. seals and secures v. 13
b. sustains v. 14
We serve an awesome God! Our view of God fuels our worship of God and fuels our service to God. May we be filled with the Father's Plan, the Son's purchase, and the Holy Spirit's perseverance!