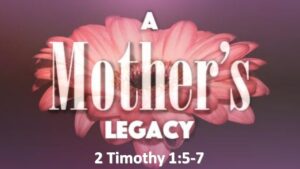 A Mother's Legacy
2 Timothy 1:5-7
A Legacy of Faith in Christ (v.5)
Lois the grandmother and Eunice the mother left a Legacy of faith. What Paul is instructing Timothy in verses 6 and 7 aren't left by the grandmother or the mother, just byproducts of faith. Faith was the legacy that was passed on. The most important legacy we can leave our children is the gospel! We can teach them to hit a golf ball, baseball, cook, hunt, fish, but if we are not teaching them the absolute glory of God, the gospel message, and a love for the Word of God, love for the church, and the things of Christ, we have missed the purpose of our creation parents! Ladies who are single parents, may Christ give you strength, grace, mercy, renewal, as you come to Him. Timothy's mother wasn't a single parent, but spiritually, the dad was absent. Acts 16:1 "Paul came also to Derbe and to Lystra. A disciple was there, named Timothy, the son of a Jewish woman who was a believer, but his father was Greek." So the mother and the grandmother were the spiritual anchors for Christ.
How does she leave a legacy?
a. By Instruction and Teaching. There are more educators in the elementary school system that are women than men. They're good at instruction! One passage that's liberating to women generation after generation is (Titus 2:3-5) "Older women likewise are to be reverent in behavior, not slanderers or slaves to much wine. They are to teach what is good, 4 and so train the young women to love their husbands and children, 5 to be self-controlled, pure, working at home, kind, and submissive to their own husbands, that the word of God may not be reviled."
b. By Teaching Character. "But as for you, continue in what you have learned and have firmly believed, knowing from who you learned it." (2 Tim 3:14) My mother would always say, "Do unto others as you would have them do unto you." (Matthew 7:12) I, on the otherhand, was more about quoting 2 Opinions 2:2 "Do unto others before they do unto you." You remember the wonderful character your mother taught you? Proverbs 31:26 "She opens her mouth with wisdom, and the teaching of kindness is on her tongue."
c. By Teaching Scripture. (2 Tim 3:15) "and how from childhood you have been acquainted with the sacred writings, which are able to make you wise for salvation through faith in Christ Jesus."
What are the byproducts of faith?
A Love to Bear Fruit for Christ (v.6)
If you are a Christian in this room, you have been given a gift to be used for God's glory!
A Longing to be Fearless for Christ (v.7)
Romans 8:15 "For you did not receive the spirit of slavery to fall back into fear, but you have received the Spirit of adoption as sons, by whom we cry, "Abba! Father!" The opposite of fear is courage!
Power– The ability to do God-sized, Christ-centered things! John 14:12 ""Truly, truly, I say to you, whoever believes in me will also do the works that I do; and greater works than these will he do, because I am going to the Father."
Love– The greatest gift ever! To love!
Discipline– The ability to not try to do things in your power, but in God's! Allowing God to be God!
Proverbs 31:25 "Strength and dignity are her clothing, and she laughs at the time to come." Why does mom not fear? Her legacy of faith assures her and is passed onto us, that Jesus has this whole thing rigged for our good and His glory!