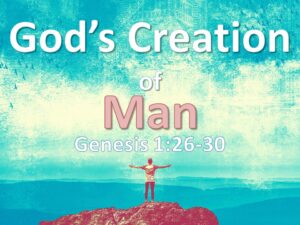 God's Creation of Man
Genesis 1:26-30
"Man is the special creation of God, made in His own image. He created them male and female as the crowning work of His creation. The gift of gender is thus part of the goodness of God's creation. In the beginning man was innocent of sin and was endowed by his Creator with freedom of choice. By his free choice man sinned against God and brought sin into the human race. Through the temptation of Satan man transgressed the command of God, and fell from his original innocence whereby his posterity inherit a nature and an environment inclined toward sin. Therefore, as soon as they are capable of moral action, they become transgressors and are under condemnation. Only the grace of God can bring man into His holy fellowship and enable man to fulfill the creative purpose of God. The sacredness of human personality is evident in that God created man in His own image, and in that Christ died for man; therefore, every person of every race possesses full dignity and is worthy of respect and Christian love." BF&M 2000
Created with Significance (Genesis 1:26)
The very fact that mankind was created in the imagine of God, means we are extremely significant to Him. We are the most significant of all of His creation. You may not always feel like it, but remember the cross. The cross is the sign that we are cared for and loved above and before all of creation. We are the ones through Christ's blood that will live with God eternally. That's significance.
Psalm 139:13-16 "For you formed my inward parts; you knitted me together in my mother's womb. I praise you, for I am fearfully and wonderfully made. Wonderful are your works; my soul knows it very well. My frame was not hidden from you, when I was being made in secret, intricately woven in the depths of the earth. Your eyes saw my unformed substance; in your book were written, every one of them, the days that were formed for me, when as yet there was none of them."
Two ways we mess up this significance
1. Man wants to be God (Genesis 3:1-7) "Now the serpent was more crafty than any other beast of the field that the Lord God had made. He said to the woman, "Did God actually say, 'You shall not eat of any tree in the garden'?" 2 And the woman said to the serpent, "We may eat of the fruit of the trees in the garden, 3 but God said, 'You shall not eat of the fruit of the tree that is in the midst of the garden, neither shall you touch it, lest you die.'" 4 But the serpent said to the woman, "You will not surely die. 5 For God knows that when you eat of it your eyes will be opened, and you will be like God, knowing good and evil." 6 So when the woman saw that the tree was good for food, and that it was a delight to the eyes, and that the tree was to be desired to make one wise, she took of its fruit and ate, and she also gave some to her husband who was with her, and he ate. 7 Then the eyes of both were opened, and they knew that they were naked. And they sewed fig leaves together and made themselves loincloths."
a. Authority Rebellion.
b. Absence of Responsibility.
2. Man denies the need for God (Ephesians 2:1-6) "And you were dead in the trespasses and sins 2 in which you once walked, following the course of this world, following the prince of the power of the air, the spirit that is now at work in the sons of disobedience— 3 among whom we all once lived in the passions of our flesh, carrying out the desires of the body[a] and the mind, and were by nature children of wrath, like the rest of mankind.[b] 4 But[c] God, being rich in mercy, because of the great love with which he loved us, 5 even when we were dead in our trespasses, made us alive together with Christ—by grace you have been saved— 6 and raised us up with him and seated us with him in the heavenly places in Christ Jesus,"
Created to be Stewards (Genesis 1:26)
Created Specifically (Genesis 1:27)
a. Male
b. Female
Created for a Special Purpose (Genesis 1:28) Psalm 150:6 the last verse in the book of Psalms, "Let everything that has breath praise the Lord! Praise the Lord!"
Created and Supplied (Genesis 1:29-30)
Created for His Satisfaction (Genesis 1:31) Isaiah 43:7 "Everyone who is called by my name, whom I created for my glory, whom I formed and made."
"God is most glorified in us when we are most satisfied in Him." – John Piper