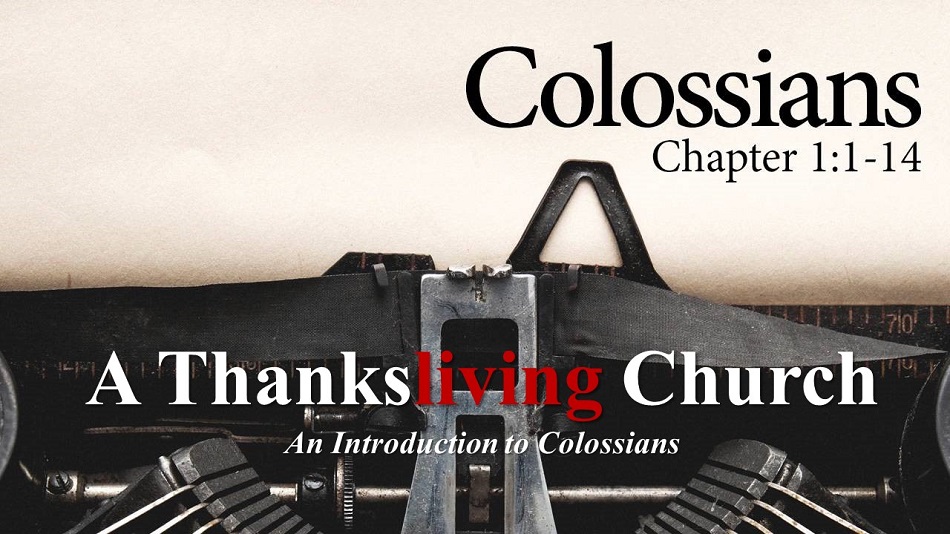 When I'm putting something together for the first time, I love to look at the instructions! When I'm lost I enjoy stopping and asking for directions! Of course, I'm joking! Often times if we don't do it right the first time, we'll have to repeat the process. Who really has time to do that? It's important to heed the instructions! Many do not like to be told what to do, but in the case of God's Church it's critical that we take note of and learn from other churches mentioned in the Bible. If we are not careful to study and apply the Word of God as our instruction manual, we will suffer every time.
The Situation with the Church (Colossians 1:1-2)
Background: Paul wrote the letter to the Colossian church while in prison. Why is this important for you to know that? The joy that spills off these pages makes it look like he is writing this from Destin or from the Blue Ridge Parkway! Christ gives us joy regardless of the circumstances! Paul had never met the Colossians, but the church's founder, Epaphras, came to visit Paul while he was in prison to discuss a few issues in the church. The church was made up of both Jewish believers who had been dispersed, and Gentile believers. You can imagine the ideas both groups had that could lead to unbiblical falsehood.
Location: (Show map picture) Colosse is located in modern-day Turkey. The city is 6 miles from Laodicea. It's main source of income was the wool trade. Colosse suffered from earthquakes and had had a significant one around the time of this letters writing in 60 AD.
Themes: The main theme is to encourage the church of Colosse on "The Supremacy of Christ."
The Identity of Jesus (Colossians 1:1-23)
Suffering for the Savior (Colossians 1:24-2:5)
Philosophies and Pressures that Turn People from the Faith (Colossians 2:6-23)
The Rigged Life: "Thankliving" for Christ (Chapters 3 & 4)
The Success of the Church (Colossians 1:3-8) Paul spends sometime in this letter thankful for the success of this church. It's a new church with some problems, but with Christ-Centered shepherding it will continue its mission.
A praying church (v.3) Paul wasn't coining this church as a praying church in this passage, but he was giving this church an example to seek their sole dependency upon Christ. You'll see this come out more throughout Colossians.
A church with a strong identity in Jesus Christ (v.4a) I can meet someone and should be able to tell if they are a true believer within the first five minutes of our conversation. What is their priority, their joy, their foundation? What is their identity? There are people that play church on Sunday, yet have no weekly identity with Christ! Be careful! "For I am not ashamed of the gospel, for it is the power of God for salvation to everyone who believes, to the Jew first and also to the Greek." (Romans 1:16)
A loving church (v.4b) The biggest gauge of how much you love Jesus is how much you love people. "Anyone who does not love does not know God, because God is love." (1 John 4:8)
A missional church (vv. 5-8) They shared the life transforming message of the gospel! That is the only hope for a dying world, the gospel! We must ask ourselves: If Oak Hill Baptist Church ceased to exist, would the community miss us? Are we a praying people, seeking our sole dependency upon Christ? Are we unashamed and find joy in our identity in Christ? Are we loving? Are we missional, do we make the Great Commission the main thing?
The Solution to Sustain the Church at Colosse (Colossians 1:9-14)
Pray for wisdom (v.9) Prayer must be a vital discipline of every Christian
Obedience (v.10) What does it mean to "walk in a manner worthy of the Lord?" The word walk gives us the image of someone walking through swampy ground. You walk in their footprints because they've identified the sink holes. The people of God are guides to life. The seasoned saints can help guide us away from pitfalls. Use the Word of God to guide you. The word walk also means to apply. Don't just know about God and have biblical knowledge, apply it. "But be doers of the word, and not hearers only, deceiving yourselves" (James 1:22)
Strength (v.11) I love the word strengthened here, because it's not referring to one's own power, but upon dependency upon Christ! "For the sake of Christ, then, I am content with weaknesses, insults, hardships, persecutions, and calamities. For when I am weak, then I am strong." (2 Cor. 12:10)
Joy (v.12) We see in Galatians 5:22 that joy is a mark of a true believer. Joy in Christ will sustain us through difficult days.
Reflection upon the truth of the gospel (vv.13-14) We must preach the gospel to ourselves daily! If we truly believe it, we will display it, share it, build our life around it.
What would Paul say about Oak Hill Baptist Church? I think he would be thankful for us the way I'm thankful for you! We must use God's Word to sharpen us individually and corporately. If we are poor students of God's Word, we're bound to learn it the hard way. I'm thankful for His instruction manual, aren't you?