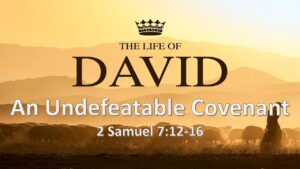 An Undefeatable Covenant
The Lineage from David to Jesus
2 Samuel 7:12-16
The prophet Nathan has been charged to share with David a few things, 1. Re-establish the temple of God, and 2. That from David's offspring will be established the eternal kingdom of God forever.
He Will Reign Forever (2 Samuel 7:12-13)
a. Solomon, David's son, will be king and build a temple for God. (vv.12-13) We see in 1 Chron. 22 that God would not allow him to build the house because of the blood shed that David had waged. His son Solomon, clearly a lover and not a fighter (700 wives) was able to build this temple.
b. Through David's line will become the king who reigns forever, Jesus. (v.13) We also see this in Isaiah's prophesy.
Isaiah 11:1-5 "There shall come forth a shoot from the stump of Jesse, and a branch from his roots shall bear fruit. And the Spirit of the Lord shall rest upon him, the Spirit of wisdom and understanding, the Spirit of counsel and might, the Spirit of knowledge and the fear of the Lord. And his delight shall be in the fear of the Lord. He shall not judge by what his eyes see, or decide disputes by what his ears hear, but with righteousness he shall judge the poor, and decide with equity for the meek of the earth; and he shall strike the earth with the rod of his mouth, and with the breath of his lips he shall kill the wicked. Righteousness shall be the belt of his waist, and faithfulness the belt of his loins."
Matthew 1:1-17 maps out the line of Jesus from David. God is the God of order and shows from Abraham to David it was 14 generations. From David to the Babylonian exile it was 14 generations and from the exile to Jesus it was 14 generations.
As you recall during the Christmas story, Joseph, the earthly father of Jesus was from the line of David and had to go to Bethlehem for the census in order to be counted.
He Requires Punishment for Sin (2 Samuel 7:14)
Scholars note that Jesus was never a sinner, yet He took on our iniquity. Isaiah 53:5 makes this very clear. "But he was pierced for our transgressions; he was crushed for our iniquities; upon him was the chastisement that brought us peace, and with his wounds we are healed." Some of this verse possibly refers to Solomon, yet the future and forever lineage of Christ is very much seen in this passage. This passage is again repeat in Hebrews chapter 1 to show the majesty of Christ above the angels and all of creation.
a. A Relationship. A Father and son relationship
b. Required Discipline. 2 Cor. 5:21 "For our sake he made him to be sin who knew no sin, so that in him we might become righteousness for God."
He Reassures Us of His Love (2 Samuel 7:15)
Saul had not been obedient or repentant. As a result, God's Spirit was removed from Saul and was given to David. Jesus, from the great line of David, shines God's love on us today as we find adoption in Him. We are heirs of the Kingdom through a saving relationship with Jesus Christ. 1 John 4:7-12 "Beloved, let us love one another, for love is from God, and whoever loves has been born of God and knows God. 8 Anyone who does not love does not know God, because God is love. 9 In this the love of God was made manifest among us, that God sent his only Son into the world, so that we might live through him. 10 In this is love, not that we have loved God but that he loved us and sent his Son to be the propitiation for our sins. 11 Beloved, if God so loved us, we also ought to love one another. 12 No one has ever seen God; if we love one another, God abides in us and his love is perfected in us."
He Reaffirms His Eternal Kingdom (2 Samuel 7:16)
This passage never mentions the name Jesus, but it's clear that is what Samuel is referring to in this text. Jesus Christ is the eternal King forever and ever. He comes from David's lineage. He will reign for eternity and is our trusted Savior. From David to Jesus it was 28 generations showing the lineage of Christ! God does what He says He will do.