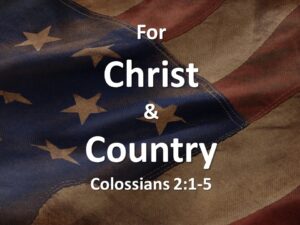 For Christ and Country
Colossians 2:1-5
(Col 2:1) "For I want you to know how great a struggle I have for you and for those at Laodicea and for all who have not seen me face to face,"
If you want to see evidence of being born again, love is that evidence, that fruit! "We know that we have passed out of death into life, because we love the brothers." 1 Jn 3:14 I specifically believe John was referring to how we love one another, the church!
I. A Sacrificial Love (Colossians 2:1) If we look again in chapter 1:28-29 we see Paul's great sacrifice is for all to grow in the gospel. The word "struggle" is translated as agony. Paul was serious about his care for the church. He was serious about this region of Gentile believers maturing in the faith of Jesus Christ. Although he could not be there personally because of prison, he had agony through pray for their spiritual growth. We see another example of Paul's agony in Romans 9:1-3 "I am speaking the truth in Christ—I am not lying; my conscience bears me witness in the Holy Spirit— 2 that I have great sorrow and unceasing anguish in my heart. 3 For I could wish that I myself were accursed and cut off from Christ for the sake of my brothers, my kinsmen according to the flesh." The beauty of the church is that we struggle for one another! We deeply care about each other. We pray for one another, we help one another, we truly care about you. Christianity is not about convenience, it's about commitment and care! Pastor, what about this country? It seems more and more evil. I believe Jeremiah gives us great insight as to what we the people of God should do. Jer. 29:7 "But seek the welfare of the city where I have sent you into exile, and pray to the Lord on its behalf, for in its welfare you will find your welfare." We are to sacrifice for our country for the glory of Christ.
Is serving Christ and helping others grow in the gospel a delight or a begrudging duty? Prayer is hard work, but needed! Missions is hard work, but needed! The behind the scenes stuff is hard work but needed. The problem is that we've reduced the work of ministry to a few "paid" individuals that will never be able to singularly accomplish all that Christ has commanded. It takes the church! I look at our country and I have great agony for their souls to be saved by Jesus. That is the answer, lives transformed by Jesus! Do you care? Do you care enough to do something about it!
(Col 2:2-3) that their hearts may be encouraged, being knit together in love, to reach all the riches of full assurance of understanding and the knowledge of God's mystery, which is Christ, 3 in whom are hidden all the treasures of wisdom and knowledge. Not only did Paul have a sacrificial love for these people to mature in Christ, he set goals for their spiritual growth! Do you know what our mission statement is? To Know Christ, to grow in Christ, to go for Christ! Gain Jesus, Grow for Jesus, Go for Jesus, G3. Depend on Jesus, Develop for Jesus, Deploy for Jesus, D3.
II. A Spiritually Growing Love (Colossians 2:2-3) In Galatians 5:22 Paul begins the list of spiritual fruit with "…love, joy, peace, patience, kindness…" It's a spiritually growing love. Paul's desire for the church is to grow in three specific areas.
a. Encouragement– "that their hearts may be encouraged," We are to be a people and a place of encouragement in Christ. 1 Thess 2:11-12
b. Unity- "being knit together in love" We may not agree on everything, but we must agree on the gospel, the Bible, and that Christ is the only way to salvation. Our unity is based on the fact that all must grow in the gospel! Ephesians 4:13
c. Understanding– "to reach all the riches of full assurance of understanding and the knowledge of God's mystery." The more we understand and love the gospel as individuals and as a church, the more we will make that our driving priority. Philemon v.6 "and I pray that the sharing of your faith may become effective for the full knowledge of every good thing that is in us for the sake of Christ."
(Col 2:4-5) 4 I say this in order that no one may delude you with plausible arguments. 5 For though I am absent in body, yet I am with you in spirit, rejoicing to see your good order and the firmness of your faith in Christ.
III. A Sustaining Love (Colossians 2:4-5) Christianity was new! Paul is calling the church of Colossae to endurance! Church we are to endure! If the evening news sways you, run to the Word of God! Do not be deluded! Satan wants God's people to be discouraged and deluded! Remember that you are a loved child of the King of Kings!
Application
How can I develop a sacrificial, spiritually growing, and sustaining love to Christ, my church, and to our country?
a. Prioritize– Discipline yourself for spiritual growth. Church attendance is a Saturday night preparation time. Satan does not want you involved in this ministry! He wants everyone to continue saying, "I will next week!" Prioritize voting Christian values. We must have a voice!
b. Pray– Prayer is the most powerful thing we as God's people can do. Why is that? Because it shows are sole dependency on the power of God and not our own. He only is the one who can bring transformation, national and global healing!
c. Participate– Every ministry here at Oak Hill is designed for your spiritual growth. The thirsty ones will take advantage of these ministries, I pray you will. It will revolutionize your family if you make spiritual growth the priority.