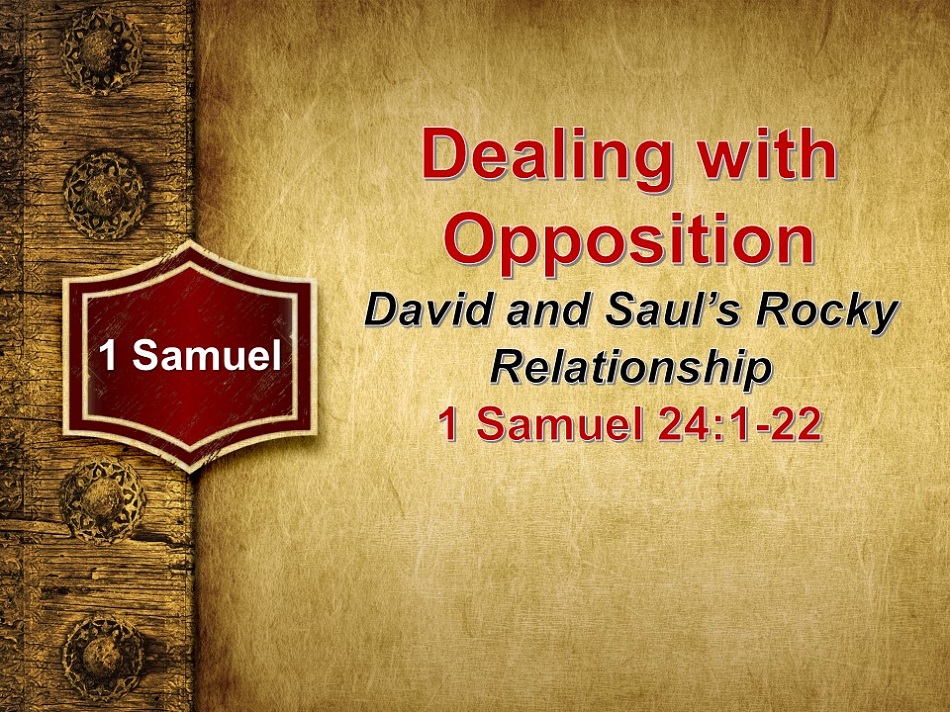 1 Samuel 24:1-22
When you think of quality fast-food, freshness, and unparalleled service, who do you think of? Chick-fil-a right? They have been getting a lot of opposition lately. Their biblical views of Truett Cathy and their corporation have taken a hit, but it seems to fuel the fire for good people to take a stand! In fact Chick-fil-a, although closed on Sunday's is a leader in business and sales. They even have a loyal fan base. Here is a picture of a wedding I did in which the best man was the Chick-fil-a cow!
David was dealing with opposition from King Saul.
David, a sheepherder, kills the Philistine giant, Goliath. From that Saul was supposed to give away his daughter in marriage, but gives her away to someone else. David is made commander of the Army, but in Saul's jealousy is belittled and pursued to be killed. David meets a group of 400 individuals who distressed, debt stricken, and detruded in a cave as he is fleeing Saul. This is recorded in Chapter 22.
Show Restraint vv.1-7
Here is a picture of where the Engedi wilderness would have been. Here is also another picture of the possible place of the "Wildgoats' Rocks."
These men of stealth, just may be the first special operators recorded. They may be a few of David's mighty men discussed in 2 Samuel. Although they were close enough to kill Saul, they showed great restraint! It takes more power to have restraint than to harm! What does fear do? Fear causes harm, it wants to eliminate the situation. The Holy Spirit gives us the power to restrain! "for God gave us a spirit not of fear but of power and love and self-control." 2 Timothy 1:7
Strive to Reconcile vv.8-15
Do all that you can to reconcile! David was the better man! You be the better man or woman! Pray, love, fight the urge to belittle or take the low road. It's hard! It's painful. Strive to reconcile! It is a supernatural work of God!
Col. 3:13 "bearing with one another and, if one has a complaint against another, forgiving each other; as the Lord has forgiven you, so you also must forgive."
Eph. 4:32 "Be kind to one another, tenderhearted, forgiving one another, as God in Christ forgave you."
Seek to Restore vv.16-22
Sometimes restoration between someone who opposes you is not possible. All that you can do is ask for reconciliation and to be restored, but it's not always possible. Restoration with God is the most important matter.
Matt. 18:15-17 "If your brother sins against you, go and tell him his fault, between you and him alone. If he listens to you, you have gained your brother. 16 But if he does not listen, take one or two others along with you, that every charge may be established by the evidence of two or three witnesses. 17 If he refuses to listen to them, tell it to the church. And if he refuses to listen even to the church, let him be to you as a Gentile and a tax collector."
Gal. 6:1 "Brothers, if anyone is caught in any transgression, you who are spiritual should restore him in a spirit of gentleness. Keep watch on yourself, lest you too be tempted."
Steps Towards Conflict Resolution
We want to be L.A.S.T. If we are last, who is to be first? God! First, take your opposition to God. Psalm 31:1-3 "In you, O Lord, do I take refuge; let me never be put to shame; in your righteousness deliver me! 2 Incline your ear to me; rescue me speedily! Be a rock of refuge for me, a strong fortress to save me! 3 For you are my rock and my fortress; and for your name's sake you lead me and guide me;". The most effective place to do battle is in your closest, not the streets.
L-Listen
A-Ask Questions
S-Seek a solution
T-Thank Them