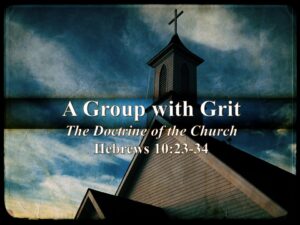 A Group with Grit
The Doctrine of the Church
Hebrews 10:23-34
A New Testament church of the Lord Jesus Christ is an autonomous local congregation
of baptized believers, associated by covenant in the faith and fellowship of the gospel;
observing the two ordinances of Christ, governed by His laws, exercising the gifts, rights,
and privileges invested in them by His Word, and seeking to extend the gospel to the
ends of the earth. Each congregation operates under the Lordship of Christ through
democratic processes. In such a congregation each member is responsible and
accountable to Christ as Lord. Its scriptural officers are pastors and deacons. While both
men and women are gifted for service in the church, the office of pastor is limited to men
as qualified by Scripture.
The New Testament speaks also of the church as the Body of Christ which includes all of
the redeemed of all the ages, believers from every tribe, and tongue, and people, and
nation.
A Gathering of Hope-Filled Believers (Hebrews 10:23)
A Gathering that Encourages and Hones Believers (Hebrews 10:24-25)
Encourage for what? 1. Love, 2. Good works. Sunday mornings are excellent, I pray that you are encouraged, yet two way encouragement comes from small groups. Sunday School, Wednesday nights, Sunday Night Discipleship Groups all allow two way encouragement and sharpening. The Word is living and active, a double edged sword, piercing… as Heb. 4:12
ἐπισυναγωγὴν – Assembling together (Hebrews 10:25, 2 Thess. 2:1)
Εκκλησία – Gathering, Assembly, The called out community (Matthew 16:18, Used 22 times in 1 Cor.)
Encourage all people, but Especially These People:
a. The Busy
b. The Burned Out
c. The Beat Up
d. The Belittled
e. The Better Than
f. The Boastful without Christ (Hebrews 10:26-31 relates to those who deny Christ)
The Horrible Judgement of Those Who Deny Christ and His Church (Hebrews 10:26-31)
A Gathering of Humble Believers with a Supernatural Grit (Hebrews 10:32-34)
Let's define G.R.I.T. – God's Resources in Times of Turmoil
The New Testament Persecuted Church– According to Open Doors Ministry, This past year over 340 million Christians are living in places where they experience high levels of persecution. 4,761 Christians killed for their faith, 4,488 Churches were attacked, and 4,277 believers are held in prison without trial. 1. North Korea, 2. Afghanistan, 3. Somalia, 4. Libya, 5. Pakistan. James 1:2-4 "Count it all joy, my brothers, when you meet trials of various kinds, 3 for you know that the testing of your faith produces steadfastness. 4 And let steadfastness have its full effect, that you may be perfect and complete, lacking in nothing."
a. People willing to suffer (v.32) John 15:18 "If the world hates you, know that it has hated me before it hated you.", 2 Timothy 3:12 "Indeed, all who desire to live a godly life in Christ Jesus will be persecuted,"
b. People who are scandalized (v.33) 1 Peter 4:14 "If you are insulted for the name of Christ, you are blessed, because the Spirit of glory and of God rests upon you."
c. People who are able to sacrifice stuff (v. 34)
d. People who are satisfied in Christ alone (v.34) Soldier in Iraq who would lose everything, yet Jesus is worth it!
Matthew 16:18 "And I tell you, you are Peter, and on this rock I will build my church, and the gates of hell shall not prevail against it."
Matthew 24:13 "But the one who perseveres to the end will be saved."