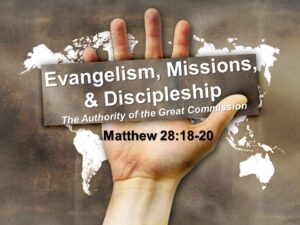 Evangelism, Missions, and Discipleship
The Authority of the Great Commission
Matthew 28:18-20
It is the duty and privilege of every follower of Christ and of every church of the Lord Jesus Christ to endeavor to make disciples of all nations. The new birth of man's spirit by God's Holy Spirit means the birth of love for others. Missionary effort on the part of all rests thus upon a spiritual necessity of the regenerate life, and is expressly and repeatedly commanded in the teachings of Christ. The Lord Jesus Christ has commanded the preaching of the gospel to all nations. It is the duty of every child of God to seek constantly to win the lost to Christ by verbal witness undergirded by a Christian lifestyle, and by other methods in harmony with the gospel of Christ. BF&M 2000.
IMB- 3,610 field missionaries, NAMB missionaries- 3,056, NAMB chaplains- 3,700, SBC- 14,089,947 members.
1.) Recognize His Sending Authority V.18 (Christ has all authority) Five Great Commission sending passages! His Authority sends us! If don't recognize His authority to be sent, we will never go! John 17:18 "As you sent me into the world, I have sent them into the world."
2.) Refocus on the Absolute Urgency V.19 "Go" (Make Disciples- Evangelism, Mark Disciples- Baptism, Mature- Discipleship)
U–Understand the destiny of the Lost (Rev.20:15) "And if anyone's name was not found written in the book of life, he was thrown into the lake of fire."
R–Repent of my silence (Acts 4:20) "for we cannot but speak of what we have seen and heard."
G–Go and Tell (Matthew 28:18-20) John 3:16 "For God so loved the world, that he gave his only Son, that whoever believes in him should not perish but have eternal life." What do we tell? 1) We are sinners bound for hell. 2) God loves us and sent Jesus to save us 3) The sacrifice that Jesus made on the cross forgives us, saves us, and gives us a relationship with God through faith in Jesus Christ.
E–Equip Others to Tell (2 Tim.2:2) "and what you have heard from me in the presence of many witnesses entrust to faithful men who will be able to teach others also."
N–Now is the Time (2 Cor.6:2; Romans 13:11) "For he says,"In a favorable time I listened to you, and in a day of salvation I have helped you." Behold, now is the favorable time; behold, now is the day of salvation. Romans 13:11 "Besides this you know the time, that the hour has come for you to wake from sleep. For salvation is nearer to us now than when we first believed."
T–Time is Short (1 Cor.7:29) "This is what I mean, brothers: the appointed time has grown very short. From now on, let those who have wives live as though they had none,"
Romans 10:14 ""But how are they to call on him in whom they have not believed? And how are they to believe in him of whom they have never heard? And how are they to heart without someone preaching?" Romans 10:14
Lack of desire to be on mission
"It seems obvious that some Christians think little about their mission in this world, except in regard to their own personal needs. They attend services and meetings when it is convenient or even frequently to enjoy all that is provided for them, take what they feel like taking, and have little concern for anything else. They are involved in the church only to the extent that it serves their own desires. It escapes both their understanding and their concern that the Lord has given His church a supreme mission and that He calls every believer to be an instrument in fulfilling that mission." John MacArthur
If we are going to bring glory to God and fulfill the Great Commission we must…
3.) Reconstruct How We Aim to do Church. V.20 (Teach-equip, Trust in His presence)
Is OHBC intentionally missional? We must gage success on sending capability and not on seating capacity.
Strategy to be intentionally missional
Matthew 9:35-38 "And Jesus went throughout all the cities and villages, teaching in their synagogues and proclaiming the gospel of the kingdom and healing every disease and every affliction. 36 When he saw the crowds, he had compassion for them, because they were harassed and helpless, like sheep without a shepherd. 37 Then he said to his disciples, "The harvest is plentiful, but the laborers are few; 38 therefore pray earnestly to the Lord of the harvest to send out laborers into his harvest." Jesus went, He saw, He had compassion… (The missionary model is to go, see, pray, share)
1) Go see
2) Pray
3) Share