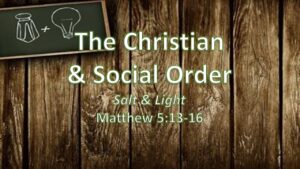 The Christian and Social Order
Being Salt and Light
Matthew 5:13-16
"All Christians are under obligation to seek to make the will of Christ supreme in our own lives and in human society. Means and methods used for the improvement of society and the establishment of righteousness among men can be truly and permanently helpful only when they are rooted in the regeneration of the individual by the saving grace of God in Jesus Christ. In the spirit of Christ, Christians should oppose racism, every form of greed, selfishness, and vice, and all forms of sexual immorality, including adultery, homosexuality, and pornography. We should work to provide for the orphaned, the needy, the abused, the aged, the helpless, and the sick. We should speak on behalf of the unborn and contend for the sanctity of all human life from conception to natural death. Every Christian should seek to bring industry, government, and society as a whole under the sway of the principles of righteousness, truth, and brotherly love. In order to promote these ends Christians should be ready to work with all men of good will in any good cause, always being careful to act in the spirit of love without compromising their loyalty to Christ and His truth." BF&M 2000.
I. Called to Initiate Transformation (Matthew 5:13) Scientists tell us that salt has more than 14,000 functions. Who would have ever thought that something so small could initiate such transformation! Here are a few uses of salt.
A. It seasons– Salt adds flavor to life, it enhances. Christians in the world should give life a wonderful flavor; we should show others what abundant life is all about. We ought to make Christianity attractive and desirable. We are to show joy in Christ!
B. It preserves– It is used to keep things from rotting or to slow down the process of decay. Christians are to be that agent of society that keeps a fallen culture from rotting even further. We are to influence our culture, to keep it from becoming totally wicked.
C. It purifies and cleanses– As Christians, our lives are to bring an element of purity and cleansing to an otherwise corrupt culture. With our lives we are to set the standard for what purity is.
D. It heals– Through the witness of His people, Jesus Christ wants to draw the hurting and broken of this world to Himself. Our lives are to have a healing effect upon those around us.
E. It creates thirst– Our lives are to be such that as we interact with others, a thirst is created within them for the water of life that flows from within us. Jesus told the woman at the well, in John chapter 4, "Whoever drinks of the water that I shall give him shall never thirst; but the water that I shall give him shall become in him a well of water springing up to eternal life." If we are in fact the salt of the earth as Christ has called us to be, our lives will create within those around us a thirst for Jesus.
F. It irritates– Even as salt in an open wound stings like fire, so the righteous life of a Christian is often an irritant to those whose lives are filled with the open sores of sin. If we live like Jesus lived we will suffer persecution because our lives will be an indictment against the lives of those who continue to be in rebellion against God.
G. It is valuable– Salt is one of the most important chemical elements known to man. It is something that all humans and animals need to live. When Jesus used the term in his sermon, it was something to which every one of His hearers could relate. The Bride of Christ, His people are of the greatest value.
II. Called to Illuminate the Truth (Matthew 5:14-15) Salt is tangible and light is visible. Light shines on the darkness and shows what needs to be transformed. Here are some social issue that people must know the truth of God's Word concerning. John 8:31-32 "So Jesus said to the Jews who had believed him, "If you abide in my word, you are truly my disciples, 32 and you will know the truth, and the truth will set you free."
A. Racism– Revelation 5:9 tells us that God sees all people equally. It says, "And they sang a new song: You are worthy to take the scroll and to open its seals; because You were slaughtered, and You redeemed [people] for God by Your blood from every tribe and language and people and nation." As Christians we are called to welcome all people, regardless of their ethnicity or social standing, into the body of Christ.
B. Greed, selfishness and vice– Matthew 6:24, "No one can be a slave of two masters, since either he will hate the one and love the other, or be devoted to one and despise the other. You cannot be slaves of God and of money."
C. Sexual immorality– Adultery and pornography are rampant in our culture. David said in Psalm 101:3, "I will not set anything godless before my eyes." And Jesus tells us in Matthew 5:28, "But I tell you, everyone who looks at a woman to lust for her has already committed adultery with her in his heart."
And of course, another realm of sexual immorality which we as Christians oppose is that of homosexuality. Unfortunately, many Christians have treated this sin as if it were somehow worse than adultery, but in truth, sin is sin, and it is all abhorrent to God. Jesus died on the cross for all sinners. That means that all sin, not just homosexuality, perverts God's standard of perfection. Homosexuality is expressly forbidden in scripture, just read Leviticus chapter 18 or Romans chapter 1. We are called to speak the truth but with compassion as well as courage. Our job is to extend His grace and love to them so that we might earn the right to be heard by them and show them that God has a better way. But we are called to stand against it being normalized in our culture.
D. Helping people in need– As Christians we have a responsibility to reach out to those who are not as blessed as we are and to minister God's love to them physically and tangibly. As individuals and as a church we are called to help the poor, to feed the hungry and to speak out for those who have no voice. Matthew 25:35-40 where Jesus says, "'For I was hungry and you gave Me something to eat; I was thirsty and you gave Me something to drink; I was a stranger and you took Me in; I was naked and you clothed Me; I was in prison and you visited Me.' Then the righteous will answer Him, Lord when did we see You hungry and feed You, or thirsty and give You something to drink? When did we see You a stranger and take You in, or without clothes and clothe You? When did we see You sick, or in prison, and visit You? And the King will answer them, 'I assure you: Whatever you did for one of the least of these brothers of Mine, you did for Me."
E. Sanctity of life– Human life is sacred from the moment of conception till natural death. Thus we oppose abortion, euthanasia, and any form of assisted suicide. God is the giver of life and as humans we have no right to shed innocent blood.
III. Called to Implement the Truth (Matthew 5:16) We are called to action!
A. Voice– We are to be vocal, to speak out in our culture for God's truth. Proverbs 29:18 says, "Without revelation people run wild, but one who keeps the law will be happy." As Christians God has called us to be truth speakers; we are to convey His truth to the world around us, whether it is popular or not.
B.Vote– Vote a Biblical Worldview as much as possible. No political party will have a clear Christ-Centered platform. Look at who is for religious liberty, biblical marriage, their stance on abortion, and the list goes on. James 4:17 says, "So, for the person who knows to do good and doesn't do it, it is a sin." Our citizenship is ultimately in heaven, yet we are to be good stewards of the place we live until that day. Would Jesus vote for a candidate who supports abortion on demand? Would Jesus vote for a candidate who supports homosexual marriage? Would Jesus vote for a candidate that stands against what His word clearly teaches? If Jesus would not vote for them, how can we vote for them and still call ourselves His people? Make no mistake about it. The world always hopes that Christians will stay home on Election Day. But be certain about this as well, as God's people who are committed to seeing His kingdom come and His will be done on earth as it is in heaven, God will hold us responsible for how we exercise His will in the voting booth.
C. Visibility– Be a witness. Are we being salt and light to a decaying world of darkness? A world that desperately needs Christ.