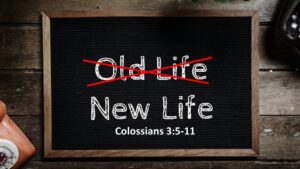 New Life
Colossians 3:5-11
I. Put the Old Life to Death (Colossians 3:5-7) Paul list five sins of purity. Romans 13:12 "The night is far gone; the day is at hand. So then let us cast off the works of darkness and put on the armor of light."
a. Kill Sinful Reactions (v.5) "Be killing sin or sin will be killing you." John Owen. Romans 8:13 "For if you live according to the flesh you will die, but if by the Spirit you put to death the deeds of the body, you will live."
b. Serious Ramifications (v.6) Matthew 5:29-30 "If your right eye causes you to sin, tear it out and throw it away. For it is better that you lose one of your members than that your whole body be thrown into hell. 30 And if your right hand causes you to sin, cut it off and throw it away. For it is better that you lose one of your members than that your whole body go into hell."
c. Sincere Repentance (v.7) 1 Cor. 6:9-11 "Or do you not know that the unrighteous will not inherit the kingdom of God? Do not be deceived: neither the sexually immoral, nor idolaters, nor adulterers, nor men who practice homosexuality, 10 nor thieves, nor the greedy, nor drunkards, nor revilers, nor swindlers will inherit the kingdom of God. 11 And such were some of you. But you were washed, you were sanctified, you were justified in the name of the Lord Jesus Christ and by the Spirit of our God." What is the sign of repentance? You stop doing the sin.
II. Put the Old Life Away (Colossians 3:8-9) Notice that these five sins are reactions within social relationships.
a. Act as an ambassador (v.8) Peter also states this "So put away all malice and all deceit and hypocrisy and envy and all slander." 1 Pet. 2:1. A maturing adopted child of the King represents the King!
b. Be authentic in your relationships (v.9)
III. Put On the New Life (Colossians 3:10-11)
a. All are
renewed
by His imagine (v.10)
b. All are found
righteous
by a relationship with Him. (v.11)
Application:
How to sincerely repent and put on the new life in Christ.
1) Pray, Matt. 26:41 "Watch and pray that you may not enter into temptation. The spirit indeed is willing, but the flesh is weak." 2) Press into Scripture, Romans 10:17. 3) Participate in Church Community, Heb. 10:24-25 "And let us consider how to stir up one another to love and good works, 25 not neglecting to meet together, as is the habit of some, but encouraging one another, and all the more as you see the Day drawing near." 4) Pride-less Accountability, Prov. 27:17 "As iron sharpens iron, one man sharpens another." 5) Participate in Christ-Centered Counseling.