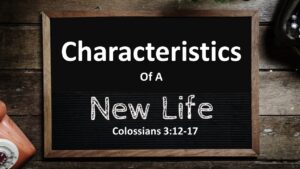 Characteristics of a New Life
Colossians 3:12-17
A Conduct of Transformation (Col. 3:12) 12 "Put on then, as God's chosen ones, holy and beloved, compassionate hearts, kindness, humility, meekness, and patience," Outward behavior is proof of inward transformation. The phrase in verse 12, "holy and beloved" means set apart ones, or separate. We are transformed to reflect Christ, so naturally we will be different than this world. Once you are adopted you begin to start displaying the inward transformation outwardly! "But pastor, I'm private about my faith!" That's not biblical! Matthew 10:32 "So everyone who acknowledges me before men, I also will acknowledge before my Father who is in heaven," If Jesus is within you, He will naturally come out! I want us to see that being chosen by God is his adoption of us. Paul does a good job of showing adoption in Ephesians 1:3-6 "Blessed be the God and Father of our Lord Jesus Christ, who has blessed us in Christ with every spiritual blessing in the heavenly places, 4 even as he chose us in him before the foundation of the world, that we should be holy and blameless before him. In love 5 he predestined us for adoption to himself as sons through Jesus Christ, according to the purpose of his will, 6 to the praise of his glorious grace, with which he has blessed us in the Beloved." One characteristic is that you conduct yourself as one who is transformed in Christ!
(Sporting event example)
A Concern for the Church (Col. 3:13-14) 13 bearing with one another and, if one has a complaint against another, forgiving each other; as the Lord has forgiven you, so you also must forgive. 14 And above all these put on love, which binds everything together in perfect harmony." You naturally want your brothers and sisters to grow spiritually in Christ! You become a unifier not a divider, you become a restorer, not a restrictor! Listen to what Paul tells the Galatians, "Brothers, if anyone is caught in any transgression, you who are spiritual should restore him in a spirit of gentleness. Keep watch on yourself, lest you too be tempted." You spend time praying for your church family, your pastor, your staff! The second characteristic is that you have a concern for your church community. A Christian without a church is a fish out of water, they don't last long in the world!
A Contentment Found in Christ (Col. 3:15) 15 "And let the peace of Christ rule in your hearts, to which indeed you were called in one body. And be thankful."
A Compass Toward Spiritual Growth and Worship (Col. 3:16) 16 Let the word of Christ dwell in you richly, teaching and admonishing one another in all wisdom, singing psalms and hymns and spiritual songs, with thankfulness in your hearts to God." Your spiritual growth and worship is a priority on your radar, both individually and corporately.
A Commitment to Excellence for Christ (Col. 3:17) 17 And whatever you do, in word or deed, do everything in the name of the Lord Jesus, giving thanks to God the Father through him." You desire to shine Christ in the workplace, among your family!
What if I do not display these characteristics? Examine yourself, Am I truly in Christ! I'm not asking if you've walked down an isle or prayed a prayer, I'm asking do you love Jesus Christ? Do you want to live for Jesus Christ? Is Jesus Christ worth dying for? You may have to wrestle with this question, but I believe the Holy Spirit will ultimately give you great peace! 1 John 5:13 "I write these things to you who believe in the name of the Son of God, that you may know that you have eternal life." We know it happens. Some will say, "I thought I was saved when I was young, but there was no transformation. There was no thirst to know more of Christ, grow in Him, and go serve Him. I had a lot of information, but no transformation."
Galatians 5:22-23 "But the fruit of the Spirit is love, joy, peace, patience, kindness, goodness, faithfulness, 23 gentleness, self-control; against such things there is no law."
These characteristics are something that the Lord does through the power of the Holy Spirit! We can't do them! Why do you think that is? Because if we could, He would never get the glory and praise that He alone deserves.