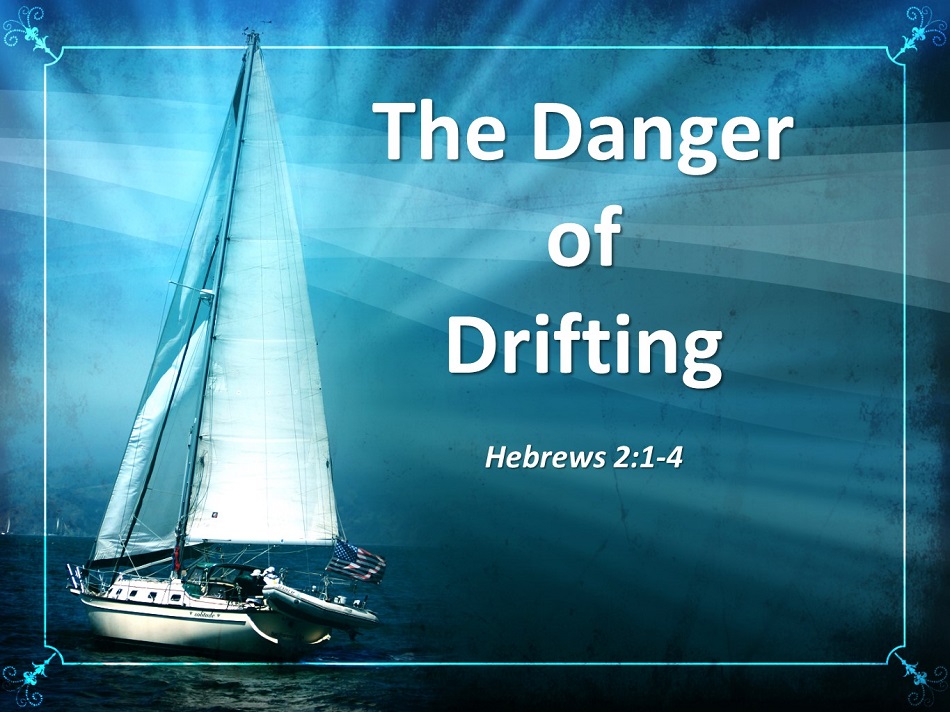 Pay Attention (Heb. 2:1-2)
1 Therefore we must pay much closer attention to what we have heard, lest we drift away from it.
If the Holy Spirit has inspired the author to write the word therefore, it's important to see what it's there for. Two truths we collect from this passage. One in which we go back to Chapter 1 of Hebrews verses 1-3. 1. If Jesus is the superior Word, in which He has all authority over life and death, we must listen. (Chapter 1 illustrated how He is more powerful than the angels. Angels in the OT were seen as God's agents of messages and power; therefore Jesus is greater than them.) 2. The remedy to the danger of spiritual decline is the obedience to God's Word.
The phrase "must pay much closer attention" is also seen in Acts 8:6 "And the crowds with one accord paid attention to what was being said by Philip, when they heard him and saw the signs that he did."
It's more than listening, it's soaking in all the information knowing that your life depends upon it! I've talked to many people who have been through military training. Everyone who has gone through Airborne school to jump out of an airplane agrees that they never paid closer attention in all their training than in this training. Why? Because their lives depended upon it! It's a matter of life or death! God's Word is a matter of life or death! Jesus said in John 8:31-32 "So Jesus said to the Jews who had believed him, "If you abide in my word, you are truly my disciples, 32 and you will know the truth, and the truth will set you free." The word abide is a word that means to continue. The question we have to ask is will we continue to be obedient or will we continue be disobedient. If we are disobedient, we've drifted!
The word drift is a nautical term. There are only two options in the Christian faith:
Sail forward through faithful obedience.
Drift away through faithless disobedience.
The paddle to keep us from drifting into spiritual decline is the heeding of God's Word. Romans 10:17 "Faith comes through hearing the word, and the word is the message of Jesus Christ." This is true with Initial faith and continual growing faith!
We are inundated with so much information. From the media, from phone calls, text messages, emails, and the list continues! We have to discipline ourselves to prioritize the Word of God! It must have our worthy focus! To again summarize chapter 1, If God has spoken in His Son, the most important message is that He loves us, has died for our sins, was buried, was raised, and if we place faith in Him we are new creations too! Nothing is more important for us and a lost world to hear and obey than this message! We grow as we abide!
By drifting, did these Jewish Christians lose their salvation? The answer is no, according to John 10, Romans 8, 1 John 2:19, and Luke 8:4-15. Especially Luke 8 in which Jesus is sharing that those who fall away, never were in Christ! Jesus states in Matthew "those who endure to the end are saved." One of the biggest lies that Satan wants you to buy, is if a person has walked down an aisle and publically professed Christ, that their eternity is sealed! The public profession is important, "So everyone who acknowledges me before men, I also will acknowledge before my Father who is in heaven," Matthew 10:32, but it's the fruit and continuance of faith that are the evidence of true salvation! The mark of the true child of God is that that he or she does not drift for long. If you are drifting this morning, one of the signs of hope that you are truly born again is that you feel convicted of this! If you are in Christ you will have a great desire in your heart to turn your eyes onto Jesus and consider him and listen to him in the days and months and years to come!
Two well-known people in ministry have come out within the last two weeks stating that they have lost their faith. Joshua Harris- Pastor, author, advocate of a huge purity movement in the 90s. The other is Hillsong's worship leader Marty Sampson.
Through prayer (We will pray for these and all who go through this)

It's a reminder how important God's Word, discipleship, and the church are.

It's a reminder that American Christianity doesn't equal biblical Christianity. What do I mean by this? Following Christ will be hard but worth it! We're starting to enter an age in America that being Christ-Centered isn't as popular as it once was. The love and truth of God's Word requires surrender and submission to a Savior! That's foreign concept in a self-help, I'll- take-offense to that society. We have to strive for pour biblical nourishment!

If they remain lost, they were not one of us! 1 John 2:19 "They went out from us, but they were not of us; for if they had been of us, they would have continued with us. But they went out, that it might become plain that they all are not of us."
3 how shall we escape if we neglect such a great salvation? It was declared at first by the Lord, and it was attested to us by those who heard, 4 while God also bore witness by signs and wonders and various miracles and by gifts of the Holy Spirit distributed according to his will.
Prioritize Action (Heb. 2:3-4) Be intentional! Do not neglect such a great salvation! Parents be intentional to not only raise your children in church but to raise them in Christ! Realize that some will and some will not come to Jesus! Sometimes are relationship with Christ is built and matured upon our weeping desperation for our children to be saved! For ourselves, we have to prioritize action. We have to be disciplined for the purpose of glorifying Jesus Christ! If we do not plan, we plan to fail!
How do we keep from drifting? Drifting in this context can either mean a decline in spiritual growth or the proof that one needs to be born again!
Prioritize the Word of God. Be careful of what you feed yourself. Colossians 2:8 "See to it that no one takes you captive by philosophy and empty deceit, according to human tradition, according to the elemental spirits of the world, and not according to Christ." Romans 12:2 Do not be conformed to this world, but be transformed by the renewal of your mind, that by testing you may discern what is the will of God, what is good and acceptable and perfect."
Practice Accountability. Hebrews 10:25 "not neglecting to meet together, as is the habit of some, but encouraging one another, and all the more as you see the Day drawing near." The church is a hospital for the sinner and the saint! We all need it! In an article by Michael Kelley titled 3 Reasons Drifting From the Faith Starts With Drifting From the Church he notes these three aspects. 1. When we leave the church, we stop being reminded. 2. When we leave the church, we embrace self-reliance. 3. When we leave the church, we create a gap.
Preach the Gospel. This comes straight from verse 3! If we love the gospel, believe the gospel, we will preach the gospel to ourselves and share it with others. Why? Because we haven't (listen to the phrase used in verse 3) "neglect such a great salvation". If you truly feel the warmth of God through salvation you will not drift for long! You'll feel a burden to repent, run back, to prove yourself the prodigal son or daughter.
Pay Attention, Prioritize Action, and repeat!