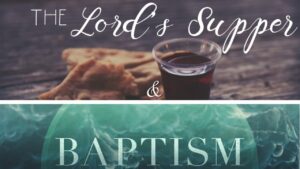 Baptism and the Lord's Supper
Matthew 3:13-17
Luke 22:1-23
"Christian baptism is the immersion of a believer in water in the name of the Father, the
Son, and the Holy Spirit. It is an act of obedience symbolizing the believer's faith in a
crucified, buried, and risen Saviour, the believer's death to sin, the burial of the old life,
and the resurrection to walk in newness of life in Christ Jesus. It is a testimony to his
faith in the final resurrection of the dead. Being a church ordinance, it is prerequisite to
the privileges of church membership and to the Lord's Supper.
The Lord's Supper is a symbolic act of obedience whereby members of the church,
through partaking of the bread and the fruit of the vine, memorialize the death of the
Redeemer and anticipate His second coming." VII BF&M 2000
Baptist call Baptism and the Lord's Supper an ordinance. Some churches would call baptism or the Lord's Supper sacraments. The word sacrament carries the meaning that this practice offers a mean's of God's grace, when an ordinance is a demonstration of one's faith.
Baptism, Matthew 3:13-17
Baptism Signifies a Commitment (vv.13-15)
Baptism is a new symbol for the new covenant people; and it is given in John's ministry only to those who repent and believe. It specifies a movement away from the Jewish community who were circumcised and set apart because of their lineage. In other words, by calling all Jews to be baptized, John declared powerfully that physical descent does not make one part of God's family, and therefore circumcision which signified a physical relationship will now be replaced by baptism which signifies spiritual relationship. Therefore John the Baptist lays the foundation for the New Testament understanding of baptism.
Jesus himself accepted baptism from John in order to identify himself with John's teaching and with this new people of faith. Jesus' disciples picked up John's practice and baptized as a part of Jesus' ministry. Then at the end of his earthly ministry Jesus commissioned the church to "make disciples of all nations, baptizing them in the name of the Father, the Son, and the Holy Spirit" (Matthew 28:19).
Baptism Symbolizes a Connection (v.16)
Paul said in Romans 6:3-4: "Do you not know that all of us who have been baptized into Christ Jesus were baptized into his death? We were buried therefore with him by baptism into death so that as Christ was raised from the dead by the glory of the Father, we too might walk in newness of life."
Galatians 3:26-28 "for in Christ Jesus you are all sons of God, through faith. For as many of you as were baptized into Christ have put on Christ. There is neither Jew nor Greek, there is neither slave nor free, there is no male and female, for you are all one in Christ Jesus."
"Baptism gives expression to our faith that we are God's from head to toe." John Piper
Baptism Specifies a Celebration (v.17)
Luke 15:10 "Just so, I tell you, there is joy before the angels of God over one sinner who repents."
The Lord's Supper, Luke 22:1-23
To Commemorate the Sparing of Lives. (vv.7-13)
The Lord's Supper originated out of the Passover meal. The Passover meal was instructed in Exodus Chapter 12:1-28 to continue annually as a memorial for God's sparing of the firstborn. The requirement was that the doorway be covered with the Lamb's blood! How will our lives be spared eternally, by being covered by "The Lambs Blood"!
It's a celebration of the mercy of God!
To Celebrate the Salvation of Eternal Lives. (vv.14-20)
"Let us, then, study to respond to this great love of Christ. It is true, we can never parallel His love. Yet let us show ourselves thankful. We can do nothing satisfactory—but we may do something out of gratitude. Christ gave Himself as a sin-offering for us. Let us give ourselves as a thank-offering for Him. If a man redeems another out of debt—will he not be grateful? How deeply do we stand obliged to Christ—who has redeemed us from hell!" ― Thomas Watson
The Lord's Supper is often referred to as the "Eucharist" which comes from the Greek verb meaning to give thanks. We're thankful for what Christ has done! He's set us free!
To Contemplate the Seriousness of Sin and Salvation. (vv.21-23, 1 Cor. 11:26-31)
1 Cor. 11:26-31 "For as often as you eat this bread and drink the cup, you proclaim the Lord's death until he comes. Whoever, therefore, eats the bread or drinks the cup of the Lord in an unworthy manner will be guilty concerning the body and blood of the Lord. 28 Let a person examine himself, then, and so eat of the bread and drink of the cup. 29 For anyone who eats and drinks without discerning the body eats and drinks judgment on himself. 30 That is why many of you are weak and ill, and some have died. 31 But if we judged[b] ourselves truly, we would not be judged."
Jesus served Judas anyway!
"Be killing sin or sin will be killing you." – John Owen