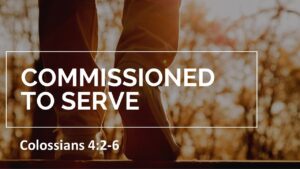 Commissioned to Serve
Colossians 4:2-6
Every believer has been commissioned to serve Christ! The Great Commission and the Great Commandment give us our marking orders! We believe that the last words of Jesus before returning to Heaven are critical to our followership of Christ! Paul gives the Colossian church some final instructions. Although this commissioning service is for Bro. Brady, it's really for every believer to follow! These final instructions to the Colossians are for all believers. I believe it's a great final charge for you Bro. Brady and Lalah, but for all followers of Christ here today.
Commissioned to a Ministry of Prayer (Colossians 4:2-3)
The most productive ministry you can have is a ministry of prayer. The most comforting feeling is knowing that people are praying for you, your wife, your family, and your ministry. The most productive time you can make is your prayer time with God. Many will push you toward pragmatism, going with the trends, fads, plugging and playing what other ministries are doing, but you must be a man of prayer, as a married couple, you must be a family of prayer! A prayerless person is a powerless person. I had a seminary project I conducted when I was about your age Bro. Brady. I asked several retired pastors what they would do if they could have done their ministry over again. Everyone of them stated that they would have prayed more. Billy Graham said that if he knew that the Lord was returning in three years, he would spend the first two years in prayer and the last year preaching.
a. Pray with Endurance (steadfastly) v.2
b. Pray with Enjoyment (thanksgiving) v.2
c. Pray for Engagement v. 3 (open to us a door for the word) Paul talks about the importance of praying for opportunities for engagement with the gospel also in Ephesians 6:19 "and also for me, that words may be given to me in opening my mouth boldly to proclaim the mystery of the gospel."
Commissioned to a Ministry of Proclamation (Colossians 4:4) We are called to proclaim Christ so that others may be saved! One of my favorite verses that deals with proclamation is Romans 10:14 "How then will they call on him in whom they have not believed? And how are they to believe in him of whom they have never heard? And how are they to hear without someone preaching?"
Commissioned to a Ministry of Godly Perception (Colossians 4:5) Really your conduct toward outsiders comes as a result of your prayer life, your personal time with Christ. Wisdom is defined as the Godly application of knowledge. When you are applying your knowledge, seeking Christ, you won't waste your life!
Commissioned to a Ministry of Godly Perspective (Colossians 4:6) May our focus and our speech always be on pointing others to Christ. You may not have the answers, but you Know the One who created the universe.
I wanted to have a little fun! Who are Brady and Lalah?
B- Biblically Centered– 2 Timothy 3:16-17 "All Scripture is breathed out by God and profitable for teaching, for reproof, for correction, and for training in righteousness, 17 that the man of God may be complete, equipped for every good work"
R- Reformation Historian– You have a love of the rich heritage we share as Protestants and as Baptist!
A- Academic– 1 Timothy 4:7-8 "Have nothing to do with irreverent, silly myths. Rather train yourself for godliness; 8 for while bodily training is of some value, godliness is of value in every way, as it holds promise for the present life and also for the life to come."
D- Devoted to Christ, Lalah, and the Church of Jesus Christ
Y- Yielding to Christ in Obedience– Acts 20:24 "But I do not account my life of any value nor as precious to myself, if only I may finish my course and the ministry that I received from the Lord Jesus, to testify to the gospel of the grace of God."