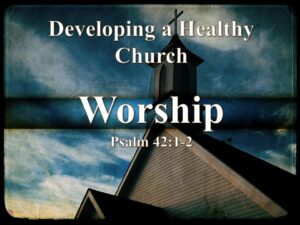 Developing a Healthy Church Culture
Worship, Psalm 42:1-2
We desire to cultivate a biblical, healthy culture at Oak Hill Baptist Church in which Christ is glorified and magnified. We want to worship Christ in such a way that outsiders can see our light of Christ from far off!
What is worship? Psalm 42:1-2 "As a deer pants for flowing streams, so pants my soul for you, O God. My soul thirsts for God, for the living God. When shall I come and appear before God?" The heart's desire to show God how worthy He is. It's the yearning of the Holy Spirit within us to make much of God!
Worship is not… Matthew 15:8-9 "'This people honors me with their lips, but their heart is far from me; in vain do they worship me, teaching as doctrines the commandments of men.'" Jesus is quoting Isaiah in this passage. Worship is not, when one's heart is unwilling to show God's worth. The danger of church is going through the motions and not truly worshipping God. Jesus states in John 4:23-24 "But the hour is coming, and is now here, when the true worshipers will worship the Father in spirit and truth, for the Father is seeking such people to worship him. 24 God is spirit, and those who worship him must worship in spirit and truth."
Worship is not about preference or style, it's about the meaning of the message being conveyed. Mark Clifton said in his book Reclaiming Glory, "people are more in love with their preferences and comfort than they are with Jesus."
"The danger of the American church is wanting to get back to normal. Why? Normal was inconsistent attendance, carnality, disunity, prayerlessness, doctrinal arguments, denominational and pastoral jealousies, over-programming, and weak giving. No, we need to get back to Jesus!" – Michael Catt
What if someone came to me and said, "Pastor, I didn't receive anything from that service." My answer should be, was scripture read? Were songs sang about Jesus? Was your heart prepared to hear and respond?" I believe many Americans aren't receiving anything from weekly corporate worship because the same God is foreign to them in private individual worship. If we want to feel the warmth of God's worth we must be fueling the flame daily in preparation for a wildfire.
Forms of Worship
a.
Singing
– Colossians 3:16
"Let the word of Christ dwell in you richly, teaching and admonishing one another in all wisdom, singing psalms and hymns and spiritual songs, with thankfulness in your hearts to God."
b.
Servin
g – Matthew 10:42
"And whoever gives one of these little ones even a cup of cold water because he is a disciple, truly, I say to you, he will by no means lose his reward."
c.
Sacrifice
– How do you know if something is worth anything? You sacrifice for it!
Hebrews 13:14-16 "For here we have no lasting city, but we seek the city that is to come. 15 Through him then let us continually offer up a sacrifice of praise to God, that is, the fruit of lips that acknowledge his name. 16 Do not neglect to do good and to share what you have, for such sacrifices are pleasing to God."
Romans 12:1
"I appeal to you therefore, brothers, by the mercies of God, to present your bodies as a living sacrifice, holy and acceptable to God, which is your spiritual worship."
d.
Scripture
– 1 Timothy 4:13
"Until I come, devote yourself to the public reading of Scripture, to exhortation, to teaching."
Why Worship?
a. God is infinitely valuable (Revelation 4:8-11) "And the four living creatures, each of them with six wings, are full of eyes all around and within, and day and night they never cease to say, "Holy, holy, holy, is the Lord God Almighty, who was and is and is to come!"And whenever the living creatures give glory and honor and thanks to him who is seated on the throne, who lives forever and ever, 10 the twenty-four elders fall down before him who is seated on the throne and worship him who lives forever and ever. They cast their crowns before the throne, saying, "Worthy are you, our Lord and God, to receive glory and honor and power, for you created all things, and by your will they existed and were created."
b. We are infinitely valuable to God (Ephesians 1:4-7) "even as he chose us in him before the foundation of the world, that we should be holy and blameless before him. In love 5 he predestined us for adoption to himself as sons through Jesus Christ, according to the purpose of his will, 6 to the praise of his glorious grace, with which he has blessed us in the Beloved. 7 In him we have redemption through his blood, the forgiveness of our trespasses, according to the riches of his grace,"
c. Worship pleases God (Psalm 69:30-31) "I will praise the name of God with a song; I will magnify him with thanksgiving. This will please the Lord more than an ox or a bull with horns and hoofs."
d. Worship is pleasant for God's people. (Psalm 147:1) "Praise the Lord! For it is good to sing praises to our God; for it is pleasant, and a song of praise is fitting."
e. Only God sustains us. (Psalm 73:25-26) "Whom have I in heaven but you? And there is nothing on earth that I desire besides you. My flesh and my heart may fail, but God is the strength of my heart and my portion forever."
f. Only God can satisfy us. (Psalm 47:1)"Clap your hands, all peoples! Shout to God with loud songs of joy!" Do you remember when you were willing and unashamed to show the world how much you love someone? (Husband/wife) The same concept is true with God. It's ok to look silly or smitten, it's for the God of this universe alone!
g. Worship serves others. (Ephesians 5:19-20) "addressing one another in psalms and hymns and spiritual songs, singing and making melody to the Lord with your heart, giving thanks always and for everything to God the Father in the name of our Lord Jesus Christ,"
h. Worship sends us to the mission field. (Psalm 67:4) "Let the nations be glad and sing for joy, for you judge the peoples with equity and guide the nations upon earth."
When to Worship? Always! (Acts 16:24-26) "Having received this order, he put them into the inner prison and fastened their feet in the stocks. About midnight Paul and Silas were praying and singing hymns to God, and the prisoners were listening to them, and suddenly there was a great earthquake, so that the foundations of the prison were shaken. And immediately all the doors were opened, and everyone's bonds were unfastened."