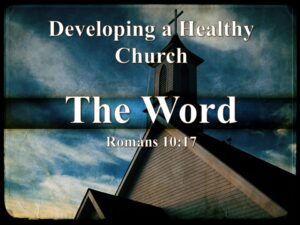 Developing a Healthy Church
The Word
Romans 10:17
I. God has placed us here for His glory.
God is glorified by our…
a. Knowing Him
b. Growing in Him
c. Going for Him
Isaiah 43:6-7 "I will say to the north, Give up, and to the south, Do not withhold; bring my sons from afar and my daughters from the end of the earth, everyone who is called by my name, whom I created for my glory, whom I formed and made."
II. God is

pleased

for us to know Him.
Ephesians 1:18 "having the eyes of your hearts enlightened, that you may know what is the hope to which he has called you, what are the riches of his glorious inheritance in the saints," We must know Him.
2 Cor 4:4 "In their case the god of this world has blinded the minds of the unbelievers, to keep them from seeing the light of the gospel of the glory of Christ, who is the image of God." Some do not know Him.
a. Know Him through new birth. 1 Peter 1:23 "since you have been born again, not of perishable seed but of imperishable, through the living and abiding word of God;"
b. Know Him through understanding. 2 Cor. 4:6 "For God, who said, "Let light shine out of darkness," has shone in our hearts to give the light of the knowledge of the glory of God in the face of Jesus Christ."
How do we come to know Christ? Romans 10:17 "So faith comes from hearing, and hearing through the word of Christ."
1 Samuel 3:21 "And the Lord appeared again at Shiloh, for the Lord revealed himself to Samuel at Shiloh by the word of the Lord."
III. God has produced His Word for the purpose of our growth.
I sent a long time on knowing God, because if one doesn't know God, growing in Christ is impossible.
a. The Word Equips. 2 Tim. 3:16-17 "All Scripture is breathed out by God and profitable for teaching, for reproof, for correction, and for training in righteousness, 17 that the man of God may be complete, equipped for every good work."
b. The Word Matures. 1 Peter 2:2 "Like newborn infants, long for the pure spiritual milk, that by it you may grow up into salvation."
How do we grow in Christ? Romans 10:17
IV. God's Word

prompts

up to go.
John 20:21-22 "Jesus said to them again, "Peace be with you. As the Father has sent me, even so I am sending you." 22 And when he had said this, he breathed on them and said to them, "Receive the Holy Spirit."
Luke 24:46-48 "and said to them, "Thus it is written, that the Christ should suffer and on the third day rise from the dead, 47 and that repentance for the forgiveness of sins should be proclaimed in his name to all nations, beginning from Jerusalem. 48 You are witnesses of these things."
Mark 16:15-16 "And he said to them, "Go into all the world and proclaim the gospel to the whole creation. Whoever believes and is baptized will be saved, but whoever does not believe will be condemned."
Matt 28:18-20 "And Jesus came and said to them, "All authority in heaven and on earth has been given to me. 19 Go therefore and make disciples of all nations, baptizing them in the name of the Father and of the Son and of the Holy Spirit, 20 teaching them to observe all that I have commanded you. And behold, I am with you always, to the end of the age."
Acts 1:8 "But you will receive power when the Holy Spirit has come upon you, and you will be my witnesses in Jerusalem and in all Judea and Samaria, and to the end of the earth."
Application:
If you want to be healthy, you must intake nourishment!
God's Word is designed to mature us to action. If you read 4 chapters a day you will have read the Bible through in 11 months. Start with one Old Testament chapter, I'd start with Psalm 119 (it cultivates a love for God's Word), Proverb 1 (31 Proverbs, one for each day), Matthew 1-2. Day 2 (Genesis 1, Prov. 2, Matthew 3-4)
Pray, Meditate, Underline, take notes, journal, get a good study Bible. I will cover more about studying the word of God tonight.