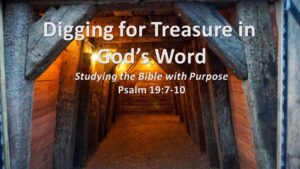 Digging for Treasure in God's Word
Studying the Bible with Purpose
Psalm 19:7-10
What are the treasures found in the Word?
a. The Word revives and gives wisdom (v.7) 2 Tim. 3:16-17 "All Scripture is breathed out by God and profitable for teaching, for reproof, for correction, and for training in righteousness, 17 that the man of God may be complete, equipped for every good work."
b. The Word causes rejoicing and gives vision (v.8) Psalm 119:162 "I rejoice at your word like one who finds great spoil." Ps 119:105 "Your word is a lamp to my feet and a light to my path."
c. The Word points to God's reign and righteousness (v.9) Matthew 24:35 "Heaven and earth will pass away, but my words will not pass away."
d. The Word is to be desired more than rare jewels or a sweet delight (v.10) Psalm 119:103 "How sweet are your words to my taste, sweeter than honey to my mouth!"
How do we study the Bible with Purpose? a. Seeing the Savior's Message (Seeing) This is not seeing: "You know neither the Scriptures nor the power of God" (Matthew 22:29). Jesus is responding to the Sadducees concerning the resurrection. "The Father who sent me has himself borne witness about me. His voice you have never heard, his form you have never seen, and you do not have his word abiding in you, for you do not believe the one whom he has sent." (John 5:37–38), "How can you believe when you receive glory from one another and do not seek the glory that comes from the only God?" (John 5:44). 2 Cor 4:4 "In their case the god of this world has blinded the minds of the unbelievers, to keep them from seeing the light of the gospel of the glory of Christ, who is the image of God."
This is seeing: "We have seen his glory, glory as of the only Son from the Father, full of grace and truth" (John 1:14). "Blessed are you, Simon Bar-Jonah! For flesh and blood has not revealed this to you, but my Father who is in heaven" (Matthew 16:17), "Then he opened their minds to understand the Scriptures" (Luke 24:45). 2 Corinthians 3:18, Paul describes the supernatural process of seeing like this: "We all, with unveiled face, beholding the glory of the Lord, are being transformed into the same image from one degree of glory to another. For this comes from the Lord who is the Spirit." b. Surrendering to the Savior's Mission (Believing) "Everyone who believes that Jesus is the Christ has been born of God" (1 John 5:1). "Faith comes from hearing, and hearing through the word of Christ." (Romans 10:17). "These are written so that you may believe that Jesus is the Christ." (John 20:31)
Faith is not what the demons do, simply believing orthodox facts about Christ in his life. Faith is a receiving of Christ for the all-satisfying person that he really is
"Whoever comes to me shall not hunger, and whoever believes in me shall never thirst." (John 6:35)
"Faith is the substance of things hoped for." (Hebrews 11:1)
I'm going to surrender myself to the Word of God, believing it to be the truth, living it out in my life!
c. Savoring the Savior's Meaning (Tasting) "Like newborn infants, long for the pure spiritual milk, that by it you may grow up into salvation — if indeed you have tasted that the Lord is good." (1 Peter 2:2–3)
This is not an experience of the natural man. It is supernatural. And it is through the word. This is what reading, meditation, and study is for. And it is supernatural.
I can describe honey all day, it's slowing moving, it's brown in color. I really won't be conveying the value of honey until I've tasted it and share it's excellence from savoring it!
John 8:31"So Jesus said to the Jews who had believed him, "If you abide in my word, you are truly my disciples,"
Insight for Studying God's Word
a. Pray
b. It's all about Jesus. All 66 books are about Him. If you've pulled out of the text how you are to be nice to your neighbor and that's it, you've missed the greater meaning.
c. It can never mean to me what it did not mean to them. What the original readers read made sense to them. We often have to journey back to the culture and context to see that meaning.
d. Context is everything. Always read what's before and after the verse. Follow the train of thought of the author, no matter how far back or ahead you have to go.
e. Consider the genre you're reading. Each genre has its own nuances and needs to be read and understood within that genre. Prophetic and poems are different, Letters and prophecy are different.
f. Enjoy the journey. Delight in the reading, digging, and studying scripture. Share with friends, family, co-workers the mystery's that are being revealed! Get a great study Bible! The ESV study bible is one of the best in my opinion.