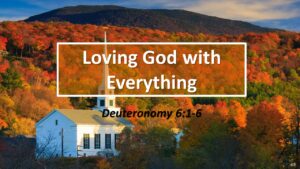 Loving God with Everything
Deuteronomy 6:1-6
I. Loving God with Your Actions (v. 2) The fear of God, or a healthy awe of God is to be passed down from generation to generation. Listen to Judges 2:10 "And all that generation also were gathered to their fathers. And there arose another generation after them who did not know the Lord or the work that he had done for Israel." This happened after Joshua had died. No one made the teaching of the fear of God a priority.
II. Loving God with Your Attention (vv. 3-4) Listening well takes work doesn't it? What if we didn't listening to one another? Wouldn't we feel less important? One of my Saturday Evening prayers for you and myself is that we would give great attention to God's Word. Sunday Mornings through Sunday School and Worship, Sunday Evenings through our Discipleship Groups, and Wednesday Nights through our devotional and mission groups, and youth ministry. If you believe God's Word is important, you will give it the upmost importance won't you? You will give it your attention! The Hebrew word Shema means to hear and obey. Deuteronomy 6:4-9 is the Shema passage. The Jewish people would have recited this passage daily. God is telling His people, and all by faith in Jesus Christ today to hear and obey this passage. In fact verses 4 through 9 are the proclamation of what we hold to as believers and for what we what to see happen in generations to come. We must give daily attention to this type of love! We have to ask ourselves, do I care enough to spend time in prayer and in the word and obeying His commands to give attention to Him? If the answer is anything but a white-hot passion to be with Christ, pled with Him to give you a burning joy, a passion for His Word and for obeying His Word!
III. Loving God with all Your Affections (v. 5) There is no room for divided affections or allegiance. "No one can serve two masters" (Matt. 6:24)
a. All Your Heart– From your heart comes your affections. I love what Jesus tells us in Matthew 6:21 "For where your treasure is there your heart will be also." We are to love God with our passions and our thoughts.
b. All Your Soul– In the Old Testament the "soul" refers to one's whole being as a living person, which includes one's "heart," but is so much more. For example, in Genesis 2:7 we are told that "Yahweh God formed the man of dust from the ground and breathed into his nostrils the breath of life, and the man became a living [soul] creature." We are to love God with our hungers, how we talk, and what we do with our hands, and how we utilize our talents, and how we react to challenges — our entire being is to display that we love God.
c. All Your Might– The word translated "might/strength" in Deuteronomy 6:5 usually functions as the adverb "very" in the Old Testament (298x). The noun version occurs in Deuteronomy and in only one other place, which itself is just an echo of our passage. In 2 Kings 23:25 we are told that King Josiah "turned to Yahweh with all his heart and with all his soul and with all his might."
So if the word usually means "very," what would it mean to love the Lord will all our "very-ness"? Interestingly, the Greek translation of this word is "power." As a reminder, the strength of a person is based on who he or she is in Christ. I believe this is pointed out in verse 6. So might is that push from Christ through the Holy Spirit! All your heart, all your soul, and even more than that, your might!
IV. Loving God with a New Alteration (v.6) When we place faith in Jesus Christ, we have a heart transformation. That is the reason I stated here that we have a new heart alteration for God. According to Ephesians we were enemy's of God before this alteration. This is what Jeremiah talked about in Jer. 31 in which the covenant would be written on our hearts. Ezekiel 36:32 "And I will give you a new heart, and a new spirit I will put within you. And I will remove the heart of stone from your flesh and give you a heart of flesh."
1 John 4:19 "We love because he first loved us."
1 John 7:12 "Beloved, let us love one another, for love is from God, and whoever loves has been born of God and knows God. 8 Anyone who does not love does not know God, because God is love. 9 In this the love of God was made manifest among us, that God sent his only Son into the world, so that we might live through him. 10 In this is love, not that we have loved God but that he loved us and sent his Son to be the propitiation for our sins. 11 Beloved, if God so loved us, we also ought to love one another. 12 No one has ever seen God; if we love one another, God abides in us and his love is perfected in us."