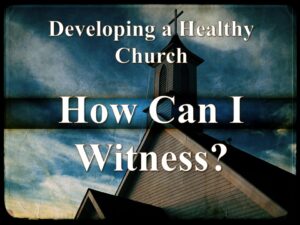 How Can I Witness?
Receive Power (Acts 1:8) "But you will receive power when the Holy Spirit has come upon you, and you will be my witnesses in Jerusalem and in all Judea and Samaria, and to the end of the earth." You cannot witness something you haven't experienced yourself.
Reconnect Through Prayer (James 5:16) "Therefore, confess your sins to one another and pray for one another, that you may be healed. The prayer of a righteous person has great power as it is working."
a. Pray for boldness (Acts 4:31) "And when they had prayed, the place in which they were gathered together was shaken, and they were all filled with the Holy Spirit and continued to speak the word of God with boldness."
b. Pray against fear (2 Timothy 1:7)
c. Pray for divine appointments (Acts 8:29-31) "And the Spirit said to Philip, "Go over and join this chariot." 30 So Philip ran to him and heard him reading Isaiah the prophet and asked, "Do you understand what you are reading?" 31 And he said, "How can I, unless someone guides me?" And he invited Philip to come up and sit with him."
d. Pray for the Holy Spirit's guidance (Matthew 10:19) "When they deliver you over, do not be anxious how you are to speak or what you are to say, for what you are to say will be given to you in that hour."
e. Pray for the salvation of the lost and for more laborers. (Matt. 9:37-38) "Then he said to his disciples, "The harvest is plentiful, but the laborers are few; 38 therefore pray earnestly to the Lord of the harvest to send out laborers into his harvest."
Make Relationships a Priority (1 Corinthians 9:22-23) "To the weak I became weak, that I might win the weak. I have become all things to all people, that by all means I might save some. 23 I do it all for the sake of the gospel, that I may share with them in its blessings."
F- Family
A- Activities
R- Religious Background
M- Message
Conduct Respectful Proclamation (1 Peter 5:13) "but in your hearts honor Christ the Lord as holy, always being prepared to make a defense to anyone who asks you for a reason for the hope that is in you; yet do it with gentleness and respect,"
Know how to tell your story in 2 minutes.
a. Before Christ: Sin
b. When He Saved me: Salvation
c. New Life in Christ: How He's Changed me
Make the gospel clear in your story of how you knew you were a sinner in need of salvation through Jesus Christ.
What is the gospel? 1 Corinthians 15:3-4 "For I delivered to you as of first importance what I also received: that Christ died for our sins in accordance with the Scriptures, 4 that he was buried, that he was raised on the third day in accordance with the Scriptures,"
John 3:16 ""For God so loved the world, that he gave his only Son, that whoever believes in him should not perish but have eternal life."
Use Resources with Power (Romans 10:17, Romans 1:16)
Use a marked New Testament and have them read the passages and ask questions. This is listed on page 15 of your workbook. Use great gospel tracts to share Christ.