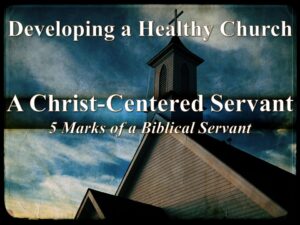 A Christ-Centered Servant
5 Marks of a Biblical Servant
1. A servant seeks to glorify his Master. (John 7:18) "The one who speaks on his own authority seeks his own glory; but the one who seeks the glory of him who sent him is true, and in him there is no falsehood" (John 7:18).
2. A servant sacrificially seeks to bring joy to those he serves. (Matthew 20:26, 28; Phil 2:4-8)
"Whoever would be great among you must be your servant . . . even as the Son of Man came not to be served but to serve, and to give his life as a ransom for many" (Matthew 20:26, 28). "Let each of you look not only to his own interests, but also to the interests of others. 5 Have this mind among yourselves, which is yours in Christ Jesus, 6 who, though he was in the form of God, did not count equality with God a thing to be grasped, 7 but emptied himself, by taking the form of a servant, being born in the likeness of men. 8 And being found in human form, he humbled himself by becoming obedient to the point of death, even death on a cross." (Philippians 2:4-8).
3. A servant will place the gospel before self-interest. (Acts 20:24, Phil 3:8-10)
"A servant's identity is not in his vocation, ability, or worldly success, but in Christ."
Paul said it this way: "I have made myself a servant to all, that I might win more of them" (1 Corinthians 9:19). What did this mean for him? It meant sometimes he abstained from certain foods and drinks, or refused financial support from those he served, or worked with his own hands to provide for himself, or went hungry, or dressed poorly, or was beaten, or was homeless, or endured disrespect inside and outside the church (1 Corinthians 4:11–13; 9:4–7). And he decided not to marry (1 Corinthians 9:5). This all before he was martyred. Paul's servant bar may have been set extraordinarily high, but all servant will yield their rights if they believe more will be won to Christ as a result. Paul states in Acts 20:24 "But I do not account my life of any value nor as precious to myself, if only I may finish my course and the ministry that I received from the Lord Jesus, to testify to the gospel of the grace of God."
Philippians 3:8-10 "Indeed, I count everything as loss because of the surpassing worth of knowing Christ Jesus my Lord. For his sake I have suffered the loss of all things and count them as rubbish, in order that I may gain Christ 9 and be found in him, not having a righteousness of my own that comes from the law, but that which comes through faith in Christ, the righteousness from God that depends on faith— 10 that I may know him and the power of his resurrection, and may share his sufferings, becoming like him in his death,"
4. A servant leader is not preoccupied with personal recognition. (John 3:27-30)
Like John the Baptist, a servant leader sees himself as a "friend of the Bridegroom" (John 3:29), and is not preoccupied with the visibility of his own role. He doesn't view those with less visible roles as less significant, nor does he covet more visible roles as more significant (1 Corinthians 12:12–26). He seeks to steward the role he's received as best he can, and gladly leaves the role assignments to God (John 3:27-30). "27 John answered, "A person cannot receive even one thing unless it is given him from heaven. 28 You yourselves bear me witness, that I said, 'I am not the Christ, but I have been sent before him.' 29 The one who has the bride is the bridegroom. The friend of the bridegroom, who stands and hears him, rejoices greatly at the bridegroom's voice. Therefore this joy of mine is now complete. 30 He must increase, but I must decrease."
5. A servant joyfully gives others opportunities to serve. (John 3:29-30, 1 Cor. 3:5-11)
"Therefore this joy of mine is now complete. He must increase, but I must decrease" (John 3:29–30).
1 Cor. 3:5-11 "5 What then is Apollos? What is Paul? Servants through whom you believed, as the Lord assigned to each. 6 I planted, Apollos watered, but God gave the growth. 7 So neither he who plants nor he who waters is anything, but only God who gives the growth. 8 He who plants and he who waters are one, and each will receive his wages according to his labor. 9 For we are God's fellow workers. You are God's field, God's building. 10 According to the grace of God given to me, like a skilled master builder I laid a foundation, and someone else is building upon it. Let each one take care how he builds upon it. 11 For no one can lay a foundation other than that which is laid, which is Jesus Christ."