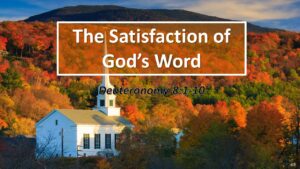 The Satisfaction of God's Word
Deuteronomy 8:1-10
I. Learn to Find Security in God's Word (vv.1-4)
A few lessons we can learn from the wilderness.
1. God will provide for our needs. (Matthew 6:25-29) "Therefore I tell you, do not be anxious about your life, what you will eat or what you will drink, nor about your body, what you will put on. Is not life more than food, and the body more than clothing? 26 Look at the birds of the air: they neither sow nor reap nor gather into barns, and yet your heavenly Father feeds them. Are you not of more value than they? 27 And which of you by being anxious can add a single hour to his span of life?[g] 28 And why are you anxious about clothing? Consider the lilies of the field, how they grow: they neither toil nor spin, 29 yet I tell you, even Solomon in all his glory was not arrayed like one of these."
1 Timothy 6:17 "As for the rich in this present age, charge them not to be haughty, nor to set their hopes on the uncertainty of riches, but on God, who richly provides us with everything to enjoy."
We don't know what manna was, I believe it was Chick-fil-a, don't you?
2. God prescribes us to worship the Giver above the gift. Jesus quoted Deuteronomy 8:3 to Satan as recorded in Matt. 4:4 and Luke 4:4 while in the forty days He was in the wilderness. Satan knows scripture, but bends it to become self-serving isn't of Christ-centered. Jesus is simply letting Satan know that all good gifts come from God, but it's more important to worship the Giver than the gift. Listen to what John Piper writes concerning this, "The most deadly appetites are not for the poison of evil, but for the simple pleasures of earth, for when these replace an appetite for God himself, the idolatry is scarcely recognizable, and almost incurable." Mark 4:19 becomes true, "but the cares of the world and the deceitfulness of riches and the desires for other things enter in and choke the word, and it proves unfruitful."
3. God places us in the wilderness so that we become dependent upon Him. Verse 2 says that the Lord might humble us. True humility is a desperate dependency upon God. When someone ask me to pour into them and mentor them concerning the call to ministry, I look to see if they are truly F.A.T. Faithful, Available, and Teachable. Are they humble? Are you humble?
4.God promised His Son to be our security. I want us to see a parallel here. Moses was in the wilderness for 40 years and Joshua was able to enter the Promised Land. Jesus was in the wilderness for 40 days and carries His people into the eternal promise land. Joshua and Jesus are the same Greek word used in Acts 7:45. Jesus is the new Joshua! Jesus is the way to the eternal Promised Land.
"You can never learn that Christ is all you need, until Christ is all you have." -CTB
II. Long to Submit to God's Word (vv. 5-6)
a. Appreciate it daily. Don't resent God's discipline. He is molding us, shaping, and even chiseling us to His likeness. (Philippians 4:12) I know how to be brought low, and I know how to abound. In any and every circumstance, I have learned the secret of facing plenty and hunger, abundance and need." Appreciate and submit to His Word. (Psalm 119:103) "How sweet are your words to taste, sweeter than honey to my mouth!"
b. Apply it daily. (James 1:22 NIV) Do not merely listen to the word, and so deceive yourselves. Do what it says.
III. Love a Life Satisfied by God's Word (vv. 7-10) God is constantly causing us to be satisfied in Him. He desires for us to enjoy Him. He gives us life to enjoy Him. Our reward for obedience is the continual enjoyment of God. Our consequence for disobedience is discipline used to help us to enjoy Him eventually. Jesus stated this to show us the beautiful satisfying freedom that only comes from abiding in God's Word. (John 8:31-32) "So Jesus said to the Jews who had believed him, "If you abide in my word, you are truly my disciples, 32 and you will know the truth, and the truth will set you free."
Find your satisfaction in the Will and Word of God, not in this World.
"If you look at the world, you'll be distressed. If you look within, you'll be depressed. If you look at God you'll be at rest." – Corrie Ten Boom