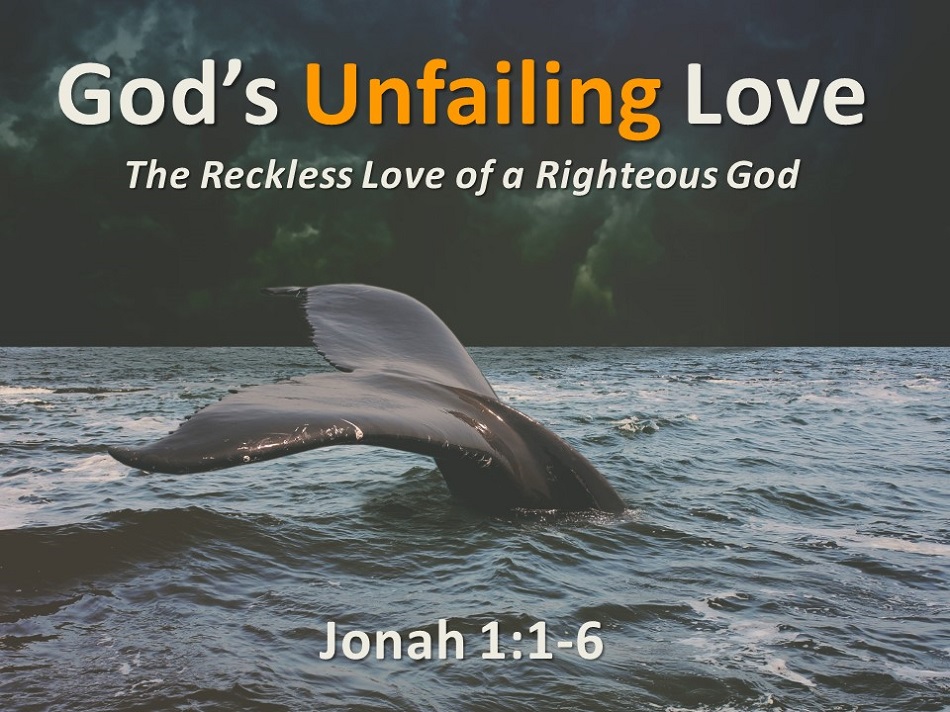 Jonah 1:1-6
About Jonah: A prophet to Israel during the reign of King Jeroboam II. We see in 2 Kings 14 that Jonah preached to the evil king Jeroboam II, 793-753 BC. Jonah's preaching helped convince Jeroboam II to fix Israel's weakened border as a result of prolonged conflict with the Assyrians. (2 Kings 14:23-28)
Why should we consider Jonah a true story of God's mercy? Because Jesus Christ affirms and validates the story of Jonah. Listen to Matthew 12:40 "For just as Jonah was three days and three nights in the belly of the great fish, so will the Son of Man be three days and three nights in the heart of the earth."
Date: Late 5th or 4th century BC
Jonah means "dove"
Son of Amittai means "son of my faithfulness"
God's Love Conveys a Message of Hope for a Rebellious Creation v.2
Nineveh– was 220 miles from modern day Baghdad and 500 miles from Israel. The Ninevites were known to be evil Godless people, a people set for disaster. As I studied for this message I just learned about the death of al-Baghdadi, the leader of ISIS. Baghdadi was responsible for the killing of many, especially Christians in the reign of ISIS. Looking at Nineveh would have been comparable to being asked to share the message of salvation with ISIS. Listen to what Nahum had to say about Nineveh. Nahum 3:1-3 "Woe to the bloody city, all full of lies and plunder—no end to the prey! The crack of the whip, and rumble of the wheel, galloping horse and bounding chariot! Horsemen charging flashing sword and glittering spear, hosts of slain, heaps of corpses, dead bodies without end—they stumble over the bodies!"
"Every Christian is either a missionary or an Imposter" – CH Spurgeon
We have placed people into categories of who God should save based on how comfortable it is to share the gospel with them. I'm so thankful that is not how God really works! We are like Jonah! We all like what God says until we are called to action! Jonah was more concerned about his comfort than other's eternity! May we awaken to the passion and compassion of Jesus Christ!
God's Love Mandates We Follow with Obedience v.3
Tarshish– Not much is known about this location other than it was the opposite direction from Nineveh. It would have possibly been located on the Western Mediterranean coast.
God commands us in three specific verses to go and share His message or to go and make disciples.
Matthew 28:19-20; Luke 24:26-49; and Acts 1:8. The message of hope of salvation is designed for all of creation, not just a small few! God is glorified when we think globally, even to those we feel may have hostility toward us or that we may feel indifferent about! God doesn't want us to feel indifferent, but passionate and compassionate about others!
"Have you no wish for others to be saved? Then you're not saved yourself, be sure of that!" -CH Spurgeon
God's Love is Marked by Discipline for a Purpose vv.4-6
Church, do not equate love with comfort! If we look at a biblical love we see sacrifice and suffering the whole Genesis through Revelations.
God had taken and torn apart that which Jonah was relying on in order for Jonah to see that God's purpose was greater than Jonah's comfort. His glory is greater than our goodtime.
What if God allows our suffering in health to bring long-term healing with Christ? What if God allows us to struggle financially until we have a fierce devotion to the Father? What if God allows our failures to bring increased faith?
Two types of discipline that God uses: 1) For Protection/Prevention or 2) For Punishment.
Hebrews 12:7-11 "It is for discipline that you have to endure. God is treating you as sons. For what son is there whom his father does not discipline? 8 If you are left without discipline, in which all have participated, then you are illegitimate children and not sons. 9 Besides this, we have had earthly fathers who disciplined us and we respected them. Shall we not much more be subject to the Father of spirits and live? 10 For they disciplined us for a short time as it seemed best to them, but he disciplines us for our good, that we may share his holiness. 11 For the moment all discipline seems painful rather than pleasant, but later it yields the peaceful fruit of righteousness to those who have been trained by it.
Application: God is serious about our obedience and He is serious about His love and message of salvation being shared to the most unlikely. We have a God who loves so much that He came to die for you and I! This in our eyes looks "reckless" but to God it is normal love for His children!