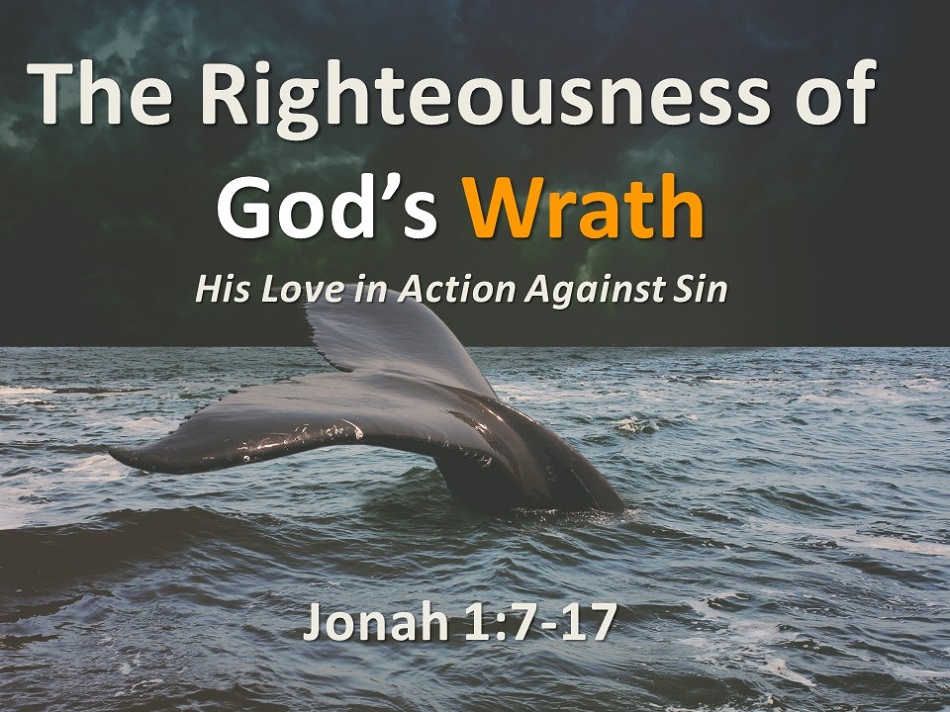 Jonah 1:7-17
The Reality of Man's Heart vv.7-9
God's wrath is His love in action against sin.
God is love, and God does all things for his glory (1 John 4:8; Romans 11:36). He loves his glory above all! Therefore, God rules the world in such a way that brings himself maximum glory. This means that God must act justly and judge sin, otherwise God would not be God. God's love for his glory motivates his wrath against sin.
Our reality is that we are very rebellious people. We stray, we drift, and we run from the call and community of Christ. He has a great purpose and plan for our lives, yet we forsake Him.
We have a great hope and promise. Listen to Ezekiel 36:26 "And I will give you a new heart, and a new spirit I will put within you. And I will remove the heart of stone from your flesh and give you a heart of flesh."
"Man's nature, so to speak, is a perpetual factory of idols. After the Flood there was a sort of rebirth of the world, but not many years passed by before men were fashioning gods according to their pleasure." – John Calvin
The Revelation We Must Have v. 10
There must be a time when the righteous fear of God becomes alive within us. We must awaken to who Jesus is, the Savior from the wrath of God the Father, the Sustainer of life eternal, and the Slayer of everlasting death.
Romans 10:17 "So faith comes from hearing, and hearing through the word of Christ."
Isaiah 55:11 "so shall my word be that goes out from my mouth; it shall not return to me empty, but it shall accomplish that which I purpose, and shall succeed in the thing for which I sent it."
The Repentance We Must Heed vv.11-16
Our repentance must be sincere, it must be authentic. Paul tells us about true repentance in 2 Cor. 7:9-10 "As it is, I rejoice, not because you were grieved, but because you were grieved into repenting. For you felt a godly grief, so that you suffered no loss through us. For godly grief produces a repentance that leads to salvation without regret, whereas worldly grief produces death."
The Rescue We Must Receive v.17
I want to align this with what Christ said in Matthew 12:40 "For just as Jonah was three days and three nights in the belly of the great fish, so will the Son of Man be three days and three nights in the heart of the earth." Jonah was a type of foreshadow of our great need for Christ to rescue us.
Application:
We begin as idol worshiping enemies of God. The Holy Spirit awakens us to the reality of our need for Jesus to save us through the sharing of the gospel. We repent from ourselves and follow Christ. We see that our only way of rescue is through a relationship with Jesus Christ.