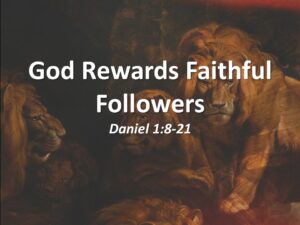 God Rewards Faithful Followers
Daniel 1:8-21
The Faithful's Determination to Follow (v.8) I'm reminded of Psalm 1:1-6 "Blessed is the man who walks not in the counsel of the wicked, nor stands in the way of sinners, nor sits in the seat of scoffers; but his delight is in the law of the Lord, and on his law he meditates day and night. He is like a tree planted by streams of water that yields its fruit in its season, and its leaf does not wither. In all that he does, he prospers. The wicked are not so, but are like chaff that the wind drives away. Therefore the wicked will not stand in the judgment, nor sinners in the congregation of the righteous; for the Lord knows the way of the righteous, but the way of the wicked will perish."
How do we follow God?
a. By faith (Ephesians 2:8 "For by grace you have been saved through faith. And this is not your own doing; it is the gift of God", Hebrews 11:6 "And without faith it is impossible to please him, for whoever would draw near to God must believe that he exists and that he rewards those who seek him.") You cannot follow God without faith in Him.
b. By following the Great Commandment (Matthew 22:37-39) "And he said to him, "You shall love the Lord your God with all your heart and with all your soul and with all your mind. 38 This is the great and first commandment. 39 And a second is like it: You shall love your neighbor as yourself."
c. By fulfilling the Great Commission (Matthew 28:18-20) "And Jesus came and said to them, "All authority in heaven and on earth has been given to me. 19 Go therefore and make disciples of all nations, baptizing them in the name of the Father and of the Son and of the Holy Spirit, 20 teaching them to observe all that I have commanded you. And behold, I am with you always, to the end of the age."
d. By focusing on the Great Commitment (James 1:22) "But be doers of the word, and not hearers only, deceiving yourselves."
The Father's Delight to Display His Favor (vv.9-16) I don't want you to see this as prescription for every moment being a display of God's favor or wrath. In fact the first part of chapter 1 clearly shows the love and place of God's discipline in our lives. I do want you to see that God rewards faith, obedience, faithfulness, and repentance. Listen to James 4:8 "Draw near to God, and he will draw near to you. Cleanse your hands, you sinners, and purify your hearts, you double-minded." Also another passage that displays the Heavenly Father's love is found in Matthew 7:11 "If you then, who are evil, know how to give good gifts to your children, how much more will your Father who is in heaven give good things to those who ask him!" We are promised eternal life through salvation in Jesus. If He never blesses me past salvation, that alone is enough! We see examples of this playing out historically throughout scripture. Joseph in Genesis 39:4 "So Joseph found favor in his sight and attended him, and he made him overseer of his house and put him in charge of all that he had." We also see this with Esther don't we. She was chosen as one of the kings wives.
The Father's Blessings on the Faithful (vv. 14-21)
a. He blessed them physically (vv.14-16)
b. God blessed them mentally (vv. 17, 20)
c. God blessed them spiritually (v. 17) John MacArthur states, "God enabled Daniel to interpret dreams and to receive visions. Visions and dreams were both a means of revelation from God…he was to serve as the very vehicle of God's divine revelations."
d. God blessed them socially (vv. 18-21)
How are we to act as a follower if we have a boss that's a Nebuchadnezzar? Be a Daniel! God rewards faithfulness. Paul reminds us of this in Colossians 3:22-25 "Bondservants, obey in everything those who are your earthly masters, not by way of eye-service, as people-pleasers, but with sincerity of heart, fearing the Lord. 23 Whatever you do, work heartily, as for the Lord and not for men, 24 knowing that from the Lord you will receive the inheritance as your reward. You are serving the Lord Christ. 25 For the wrongdoer will be paid back for the wrong he has done, and there is no partiality."
How we react points to Christ! A lost world is watching to see if we're different! A lost world is watching to see what gives us strength, joy, and power!