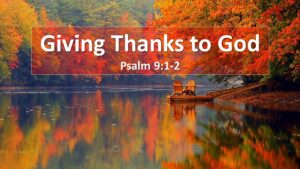 Giving Thanks to God
Psalm 9:1-2
I. Giving Thanks to God Requires the Whole Heart (Ps. 9:1a)
This is the first Psalm out of the Psalms that gives thanks. Thanksgiving to God is a clear sign of someone's true rebirth in Christ! We tend to drift away from thanksgiving though, so both in the OT and in the NT we are encouraged to be thankful. Especially in Paul's letters, he reminds us to be thankful. The new heart that God gives us for His glory responds with gratitude! If God hasn't blessed you beyond salvation, salvation is enough of a blessing for me! If the believer is marked by thanksgiving to God, the non-believer is marked by not giving thanks. Romans 1:21 "For although they knew God, they did not honor him as God or give thanks to him, but they became futile in their thinking, and their foolish hearts were darkened." I used the whole heart reference here because it's strait from Deut. 6:5 in which our focus is with everything we'll give thanks to God. With all our might! Giving thanks is an action!
Matt 12:34 "You broad of vipers! How can you speak good, when you are evil? For out of the abundance of the heart the mouth speaks.
Eph. 4:19 "addressing one another in psalms and spiritual songs and making melody to the Lord with you heart."
Dangers that cause us to drift away from giving thanks to God
a. Lack of Trust or Doubt – Doubt is when we don't trust His sovereign plan, power, and purpose. We doubt because we're not patient are we? We doubt because God doesn't work on our schedule, but in His perfect timing. Psalm 9:10 "And those who know your name put their trust in you, for you, O Lord, have not forsaken those who seek you." Psalm 13:5 "But I have trusted in your steadfast love; my heart shall rejoice in your salvation." Psalm 20:7 "Some trust in chariots and some in horses, but we trust in the name of the Lord our God." Psalm 31:14 "But I trust in you, O Lord; I say, "You are my God." Psalm 56:3 "When I am afraid, I put my trust in you." Christ can be trusted!
b. Lack of Prayer– God has designed us to hunger to communicate with Him. When we forsake this design, we turn to other outlets, social media, entertainment, busyness of life, and recreation to fill this void. This causes chaos, but Christ through prayer gives peace. Philippians 4:6-7 "do not be anxious about anything, but in everything by prayer and supplication with thanksgiving let your requests be made known to God. 7 And the peace of God, which surpasses all understanding, will guard your hearts and your minds in Christ Jesus."
c. Lack of Bible Intake– God's Word is designed to give us peace, even during the storm. When we forsake His Word, we turn away from hearing from Him! How can we be thankful if we're not receiving His blessings! His Word reminds us of His goodness. Psalm 106:1 "Praise the Lord. Give thanks to the Lord for he is good; his love endures forever." * There are studies showing an increase in anxiety among those who use social media platforms. One reason among many is comparison of others.
d. Lack of Accountability – When we're not surrounded with others who are thankful for God's blessings and His work, we become a reflection of the environment (a thermometer). With corporate worship we are energized because of others who are thankful to become a reformer of the environment (a thermostat). Hebrews 10:24-25 "24 And let us consider how to stir up one another to love and good works, 25 not neglecting to meet together, as is the habit of some, but encouraging one another, and all the more as you see the Day drawing near."
II. Giving Thanks to God Recognizes His Blessings (Ps. 9:1b) The ESV states "I will recount all of your wonderful deeds. Some versions state, "I will declare…"
Paul tells us to be thankful regardless of our circumstances. Why do you think that is? I believe Paul knew the secret to recounting our blessings is a satisfaction in Christ above all things.
1 Thessalonians 5:16-18 "16 Rejoice always, 17 pray without ceasing, 18 give thanks in all circumstances; for this is the will of God in Christ Jesus for you." The book of Deuteronomy is full of reminders by Moses concerning the provisions of God. The need to be thankful for God's blessings. Deut. 18:15 "The Lord your God will raise up for you a prophet like me from among you, from your brothers- it is to him you shall listen." This is a reference to Jesus the final prophet as referenced in Acts 3, 7, and John 1:21. Also Deut. 26:11 reminds us that we should always give thanks. "And you shall rejoice in all the good that the Lord your God has given to you and to your house, you, and the Levite, and the sojourner who is among you." These instructions in Deut. given by Moses were to Recount God's goodness and glory!
III. Giving Thanks to God Rejoices In His Glory (Ps. 9:2) Praise God with everything you are!
Psalm 69:30 "I will praise the name of God with a song; I will magnify him with thanksgiving."
You are either a microscope or a telescope! A. microscope takes something very small and makes it bigger! A person is really small in comparison to God, yet we try to make ourselves bigger. When we make much of us, we give little or no praise to God and little or no praise to those around us! Those are the microscopes of life! We all know microscopes. B. The second person is a telescope. A telescope takes something big and draws it closer to see. You as a professing Christian are being watched. You can either draw people closer to the majesty of Christ, or push people away with your microscope self! Draw them in closer to Christ! Reflect the bigness of God! Show Him, magnify him! How do I do this!
Here is a question to see if you
I like what our church sign says, "Thanksgiving is a state of mind" so let's have our mind renewed! Romans 12:2 "Do not be conformed to this world, but be transformed by the renewal of your mind, that by testing you may discern what is the will of God, what is good and acceptable and perfect." KK has a book called Stinking Thinking, We've got to stop stinking thinking! How?
Like Paul told Timothy disciple yourself for the purpose of godliness. What you feed grows, what you starve dies! A. Listen to Christ exalting music! B. Read Christ exalting books and scripture! C. Be around Christ exalting people! D. Be a Christ exalting person!
Your lack of trust in God will be transformed by your increased intake of God's Word and prayer. When you pray, journal your prayers! You will be blown away to see what happens! You will be thankful! Your worship attendance and involvement in church ministries will help increase those you surround yourself with, increasing your thankfulness. Thanksgiving is all about Christ, all for His glory!
Don't settle for the sewage of this world to make you happy, we were designed to give praise to the Savior of this world! The Creator, the King of kings, the Lord of Lord's!
The world says, "Don't be thankful to God!" But the Word says, be thankful!" We must transition as a new creation to continue thanksgiving to Christ!