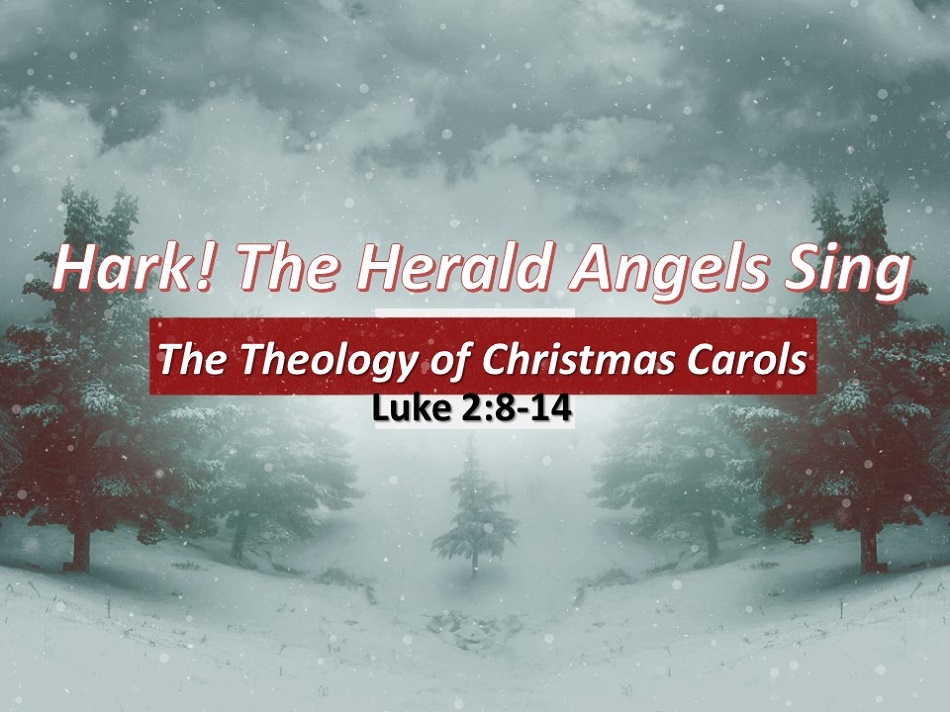 The reason we are going through this series is that I want you to relive when we sing these hymns we're going through and hopefully meditate on great biblical theology and doctrine. If we're not careful in a biblically-illiterate society, we'll lose the essence of the hymns and their design to draw our minds and hearts close to Christ! It's after Thanksgiving; therefore, we may sing all the Christmas songs our hearts desire!
Charles Wesley, who was the 18th child of a minister and the founder of the Methodist Church, wrote another version of this Christmas hymn in 1739. Later, in1753, Charles' good friend George Whitefield convinced him to write the words that we still sing today. Wesley had begun writing hymns upon his salvation. In fact he wrote some 6,000+ hymns during his lifetime. Listen to the original version:
Hark, how all the welkin rings, (welkin is an old English term for the vault of heaven.) Glory to the King of kings; Peace on earth, and mercy mild, God and sinners reconciled! Joyful, all ye nations, rise, Join the triumph of the skies; Universal nature say, Christ the Lord is born to-day!
This hymn is deep with theology and scripture. The most noted is the account of the Angels appearing to the shepherds found in Luke 2:8-14. Let's look at the hymn verses and compare them to Bible verses we see in Luke 2.
A Song of Praise (Luke 2:13-14) "Hark! The herald angels sing, "Glory to the newborn King;"
It doesn't say they sang, but we're ok with that! It's a hymn, we sing hymns in praise. It does say they praised Christ! In Psalms it mentions singing or shouting about 20 times as a form of praising God. The prophet Isaiah mentions singing in order to praise God. Listen to what Paul tells the Ephesians in chapter 5 verses 18-19 "And do not get drunk with wine, for that is debauchery, but be filled with the Spirit, addressing one another in psalms and hymns and spiritual songs, singing and making melody to the Lord with your heart," We are to praise Christ in this wonderful message of hope. There was a 400 year period of silence between the Old and New Testament. Christ comes in with an insertion to rock the world and transform mankind.
A Song of Peace (Luke 2:14) "Peace on earth and mercy mild, God and sinners reconciled."
Isaiah 9:6 "For to us a child is born, to us a son is given; and the government shall be upon his shoulder, and his name shall be called Wonderful Counselor, Mighty God, Everlasting Father, Prince of Peace."
Romans 5:1-2, 11 "Therefore, since we have been justified by faith, we have peace with God through our Lord Jesus Christ. 2 Through him we have also obtained access by faith into this grace in which we stand, and we rejoice in hope of the glory of God." 11 More than that, we also rejoice in God through our Lord Jesus Christ, through whom we have now received reconciliation.
A Song of God's Provision (Luke 2:10) "Joyful, all ye nations rise, Join the triumph of the skies;"
We can have great joy in knowing our Savior, Christ, God is with us! He is for all people who place faith in Him! We have triumph over sin and death because of Him!
Malachi 4:2 "But for you who fear my name, the sun of righteousness shall rise with healing in its wings. You shall go out leaping like calves from the stall."
Romans 15:13 "May the God of hope fill you with all joy and peace in believing, so that by the power of the Holy Spirit you may abound in hope."
A Song of Proclamation (Luke 2:11) "With angelic hosts proclaim, Christ is born in Bethlehem."
Micah 5:2 "But you, O Bethlehem Ephrathah, who are too little to be among the clans of Judah, from you shall come forth for me one who is to be ruler in Israel, whose coming forth is from of old, from ancient days."