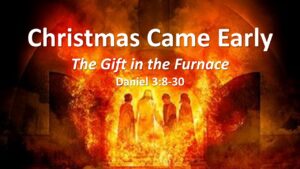 Christmas Came Early
The Gift in the Furnace
Daniel 3:8-30
Although at the end of chapter 2, we see Nebuchadnezzar praising God, it was short-lived. Neb wanted it all. He didn't want to be second among any god or king. He built a 90 ft. golden statue. He required the worship of this statue when music was played, everyone had to stop doing what they were doing and worship the statue. Three Hebrew men, Psalm 1 men, Psalm 101 men, Titus 2 men, and 1 Timothy 6 type of men decided that they would only worship Yahweh, the one true God! We see that God gave them the ultimate gift! A gift that we all are given by grace through faith! The gift of Christ!
What does having the gift of Christ give us?
The Confidence to Confront a Godless Culture (3:8-15)
a. You will be criticized (8-12)
b. You will be challenged (13-15) We may not be challenged in this way, but the idols of this world will challenge us daily. People may think we are weird because we don't respond the way that society responds.
2 Timothy 3:12 "Indeed, all who desire to live a godly life in Christ Jesus will be persecuted,"
1 Peter 4:14 "If you are insulted for the name of Christ, you are blessed, because the Spirit of glory and of God rests upon you."
The Courage to Follow God (16-23)
Acts 20:24 "But I do not account my life of any value nor as precious to myself, if only I may finish my course and the ministry that I received from the Lord Jesus, to testify to the gospel of the grace of God."
The Clarity to See that Christ is in Control of our Circumstances (24-25)
Some scholars believe that this occurrence was around 600 to 700 years from the nativity! That's about the same time as Isaiah's prophecies. Shadrach, Meshach, and Abednego got an early Christmas present. (Potato Cannon) What seemed like an awe situation turned out to bring glory to God!
Romans 8:28 "And we know that for those who love God all things work together for good, for those who are called according to his purpose."
The Daily Celebration of Christ (26-30)
Nothing says celebration like tearing the limbs off of devil worshippers! I'm just seeing if you're still awake. They celebrated the one true God! I'm not saying that ripping people's arms off is right. Worshipping Christ is always right! Listen to Luke's account of the birth of Christ. It shows the beginning of a great celebration!
Luke 2:15-20 "When the angels went away from them into heaven, the shepherds said to one another, "Let us go over to Bethlehem and see this thing that has happened, which the Lord has made known to us." 16 And they went with haste and found Mary and Joseph, and the baby lying in a manger. 17 And when they saw it, they made known the saying that had been told them concerning this child. 18 And all who heard it wondered at what the shepherds told them. 19 But Mary treasured up all these things, pondering them in her heart. 20 And the shepherds returned, glorifying and praising God for all they had heard and seen, as it had been told them."
Why is the nativity so important? God gave us the greatest gift anyone could ever receive! Through Christ we have the confidence to confront a godless culture, the courage to follow God, the clarity to see Christ in control, and to celebrate Him!
Why do we celebrate?
a. No Condemnation (Forgiveness of sins)
b. Eternal Connection (Relationship with God, the Bride of Christ)
c. Eternal Community (Heaven awaits all in Christ)