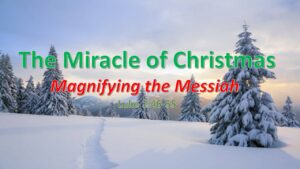 Christmas, Magnifying the Messiah
Luke 1:42-55
Many traditions happen on Christmas and around Christmas, families gather, presents are given, pictures are taken, but whatever you do, take time to reflect and rejoice in the Messiah. Be intentional about magnifying Him. Families can read scripture together, there are many advent books available, even online for free. Reflect upon the goodness and mercy of God through Jesus Christ! Mary's song, recorded in Luke 1:46-55 also known as the Magnificat, does a great job of magnifying Jesus.
A Time of Rejoicing (Luke 1:46-48)
a. Rejoice in the fact that Christ is the King and Savior for all people. (v.48) 1 Cor. 1:26-29 "For consider your calling, brothers: not many of you were wise according to worldly standards, not many were powerful, not many were of noble birth. 27 But God chose what is foolish in the world to shame the wise; God chose what is weak in the world to shame the strong; 28 God chose what is low and despised in the world, even things that are not, to bring to nothing things that are, 29 so that no human being[b] might boast in the presence of God."
b. Rejoice in the fact that Christ is the King and Savior for all of time. (v.48)
In 1 Samuel 2 we see the account of Hannah and her child Samuel. I want you to see the similarities of Hannah and Mary's words.
1 Samuel 2:1 (Hannah) "My heart exults in the Lord; I rejoice in thy salvation."
Luke 1:47 (Mary) "My soul magnifies the Lord; my spirit rejoices in God my Savior."
Jesus causes us to rejoice!
A Time of Reverent Reflection (Luke 1:49)
1 Sam. 2:2 "There is none holy like the Lord."
Lk 1:49 "Holy is his name." What does a reverent reflection look like? It's really a gospel wake up call! A reflection to not that the only way I can be in right standing with God is through faith in Jesus Christ! Hebrews 11:6 "And without faith it is impossible to please him, for whoever would draw near to God must believe that he exists and that he rewards those who seek him."
We reflect that we are nothing without the righteousness given to us by Jesus Christ.
A Time of Remembering His Righteousness (Luke 1:50-52)
a. His mercy (v.50)
b. His strength (v.51)
c. His justice (v.52)
1 Sam. 2:4 "The bows of the mighty are broken but the feeble gird on strength."
Lk. 1:52 "He has put down the mighty from their thrones, and exalted those of low degree."
A Time of Rejoicing in His Redemption (Luke 1:53-56)
1 Sam. 2:5 "Those who were full have hired themselves out for bread, but those who were hungry have ceased to hunger."Lk. 1:53 "He has filled the hungry with good things, and the rich he has sent away empty."
If we were to write a Christmas song, would it magnify Christ like that of Hannah and Mary? There will be a tension between the secular and the spiritual during Christmas time. Use this season as a wonderful way to boost in the Christ. We celebrate the cradle of Christ because it leads to the cross of Christ. Merry Christmas